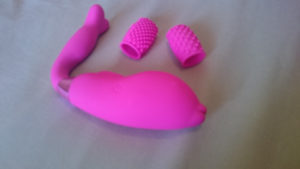 I was given the TOT Doly free of charge in exchange for my honest review for Dealsmachine.com who have just broadened the range of sex toys they have available. The fact I received the Doly free of charge is not going to affect the outcome of my review.
So DealsMachine have a rather vast amount of toys I would consider not safe or "jelly" toys. However they do have a lot of other silicone body safe cheaper alternatives to luxury toys. They also carry the Nalone range which I think is a great step up from the cheaper TPE/TPR materials.  So you really should check them out they have a lot of cheaper body safe options for those who cannot afford luxury price tag sex toys. They also carry deals on electrical goods and household appliances.
Okay so once I received the TOT Doly I got to work trying to figure out how to insert it. The Manual included all the details of how to use the toy and set up the app to control it however none to state how to insert it.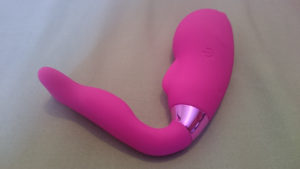 It took some guess work and trial and error I assumed I inserted the thicker end with the whale face on but this had the power button on. After looking at the TOT site everything was in Chinese and I couldn't even get it translated. However I continued to insert it this way and I did orgasm. I then proceeded to use it the other way around and switch to insert the thinner end and have the whales face against my clit this also led me to orgasm. However each time I used it the adaption ring around the base of the toy irritated my vaginal opening.
Okay so I assume the best way to use tis toys is to insert the thinner end that has what looks like a love heart (or the whales tail) end. That way then the control button is still accessible. The vibrations are relatively moderate the highest setting being quite loud, Mr commented on how loud it was during use.
That said I do like the fact that a lower market vibe has the capability of being Bluetooth controlled and has an app so that it can sync up with porn. I haven't tried this as I don't really care for porn however I can see the appeal.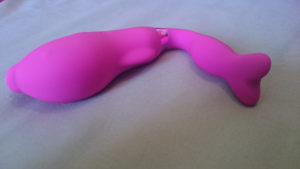 The fact the Doly is rechargeable and waterproof is amazing and great for a cheaper vibe. It does what it says on the tin and isn't an awful vibrator which is great considering the price. The TOT Doly is made from silicone apart from the adapter ring and had two interchangeable textured sleeves which I couldn't figure out whether they attach to the tail end (which I wouldn't be fond of inserting in case they slipped off during use) Or the thicker whale end (which they don't really stretch enough to go over.
Overall Rating
Appearance

Value for money

Vibrations

Build Quality

Orgasm
Summary
Overall I think the TOT Doly is a great alternative for those who want to try a hands free app controlled vibrator but don't have the budget to buy more expensive vibrators available in this category.
RRP:£24.22