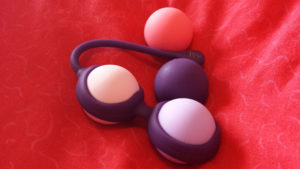 I was given the Pussy Pay Balls free of charge in exchange for my honest review for Rianne S. The Play Balls are one of the new items available from Rianne s which has just had a new website and a new range of toys. I recommend you check out the Rianne S site. The fact I was given these Kegel balls free of charge is not going to affect the outcome of my review.
The Pussy Play Balls are a set of Kegel balls that come with 4 different weighted balls. You can totally customise the weight you are lifting during your Kegels. Initially you should start with the lighter balls until your Kegel muscles become stronger and are able to hold the two heavier balls in place.
The Weights are as followed:
Deep purple 55 grams
Lilac 35 grams
Coral 25 grams
Nude 15 grams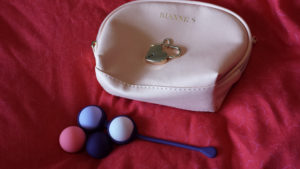 Now you can also use the Pussy Play Balls without the holder however I would suggest that you start with the silicone holder if you are new to Kegel balls or just if you want added security. I personally prefer to use them in the holder as it makes removal easier for me. You can start with the two lighter balls which I chose to and then combine a heavier one with the lighter one and then the two heavier ones and work your way up from there until your muscles are at their strongest.
The Pussy Play balls come in a lovely storage bag which also comes with a lock to store them away this also helps keep the balls that are not in use together. The bag I got was the lovely Nude coloured bag.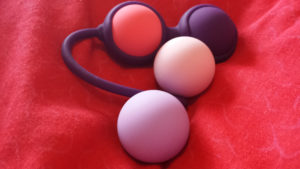 The two light weight balls when combined in the holder are really light and weigh a lot less than your average Kegel balls. When I first inserted them they were comfy and I couldn't really tell much of a difference I mean they are not feather weight but for a Kegel toy they are the lightest I have ever tried. This weight helps transition to heavier ones which when inserted both the two heavy balls are really heavy a lot heavier than your average. I think that there is a good range of weights in this set and you can combine to suit your needs.
I am very impressed with the Pussy Play Balls and although the name sounds odd they are a really great set of Kegel balls. I love the fact you can pick and choose the weights I also love how each ball is a different weight I have seen sets that only include two light and 2 heavy balls. However this set includes a mixture of four different weights for you to use as you wish.
Overall Rating
Appearance

Quality

Ease Of Use

Comfort

Orgasm
Summary
I really really recommend the Pussy Playballs to anyone looking to work on tightening those Kegel muscles. Let's face it we are all guilty of neglecting those important muscles whether you have had children which has weakened your pelvic floor or just suffer with leakage when you couch or sneeze or even jump these could really help make your pelvic floor stronger. They are suitable for everyone from beginner up to self-confessed Kegel fanatics as they offer a range of weights to suit your need.
RRP:N/A

You can find The Pussy Play Balls at
Rianne-S.com