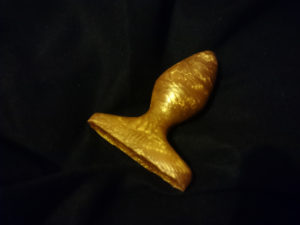 I received the Plug-B from G Silicone/GODEMICHE they kindly offered it up for a prize in the Blissemas prize draw. My Plug-B was part of the Anal Starter set however I have chosen to review the Peg separate as I you can purchase them separately as well as together. Thank you to GODEMICHE for sending me this lovely little plug.
The gold really accents the fact that it was a Christmas themed giveaway however it also does look kind of like a bauble or light with the shape of the Bulb. Now this is most possibly the cutest tiniest little plug I have ever seen.
My first plug was a beginner's one from a well-known lingerie and toy company. The fact it said beginners meant nothing it was HUGE I mean I have large plugs that weren't as big as that one, its safe to say I steered away from anal play for the following two years after that attempt. The horrid circular base left impressions on my ass for weeks. Anyway the Plug-B is very tiny and perfect for beginners the base is flat and forms a vertical support which is a lot better than round circular bases. The Vertical base just slips between your cheeks and rests against you this type of base also means wearing the Plug can be discreet.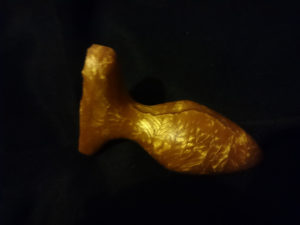 The Tapered tip is really easy to insert. Plug-B has become a warm up plug I use for any anal activity whether it be using the Peg or another bigger Plug like the CocksHead Plug. The Plug-B helps me to easily adjust from no penetration to ready and waiting in minuets and the size of the plug makes it feel comfortable and not too overbearing during use.
The silicone that is used in the Plug-B is relatively firm the actual bulb itself is quite firm however the neck and base have a little give in them it's hard to describe how much however  You can bend and twist the base. The firmness of the Base also means it isn't going to poke and prod you during you, I find it really comfortable.
I am really happy I won the Plug-B because it is a plug I can just whip out and shove in me without warm up or being too time consuming like most other plugs I have, it takes a while for them to be inserted or warmed up to the Plug-B changes all of that.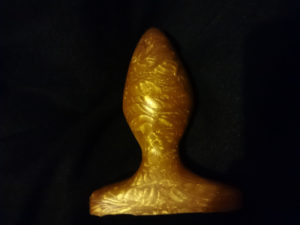 Plug-B is really a "Beginners" plug there is no doubt about that! The size is perfect and great for beginners it isn't intimidating. That fact you can choose a bright/pretty colour to have it made in makes taking that first step into anal play more fun.
I really am in love with this little plug. The Peg and Plug-B complement each other perfectly the plug means you can warm up for a bit of anal fun. The Peg is perfect for that first anal thrusting session. So Yes as well as the Plug-B I do really recommend that if you are new to Anal play that you take  look at the Anal Starter Set.
Overall Rating
Appearance

Base

Girth

Length

Shape

Orgasm
Summary
Plug-B is perfect for those who are new to Anal play. Those who want a small warm up Plug for larger more experienced Anal toys. Plug-B is a body safe plug that is perfect for everyone regardless of experience or gender.
RRP:£9.00