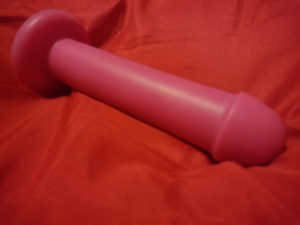 I was given the Tru Touch dildo free of charge in return for my honest review for Doc Johnson. I asked to review something from the new dual density range and I was sent this along with the Tru Ride for a review.  The fact I was given the Tru Touch free of charge is not going to affect the outcome of this review.
Now Dual Density is something made from two firmness's. Now we are talking about silicone in this case. The dildo has a firm core of silicone that is then coated in a softer much more flexible silicone. This replicates the feeling of skin over muscle. Making this dildo feel a lot more realistic then say your average silicone dildo.
Dual Density dildos are usually a lot more expensive than the average silicone dildo of one firmness. So I was shocked when Doc Johnson released a new line of Dual Density dildos, butt plugs and even a masturbator for a really incredibly affordable price. I have a few dual density dildos in my collection and so far they cost 80-100 pound or even more! The New TRUSKYN range averages at around 50 so they are by far the cheapest dual density range I have come across.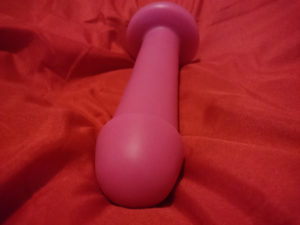 The shape of the Tru Touch is pretty simplistic it has a straight shaft which seemed odd to me at first I mean my vagina curves. The best thing though is the mushroom shaped head. This latches on to my G spot and pulls and tugs at it until I orgasm. I seriously love the Tip.
The size of the Tru Touch means I can't fully insert it I mean 7.5 inches is quite long. Anyway when I first inserted this dildo I found that although the shaft is straight it does curve with my vaginal cannel the dual density means it is flexible and able to curve into my vagina with no irritation what so ever. I do like to insert maybe 4 inches so that the tip is behind my g spot and give short thrusts this is just great! Also the silicone feels crazily good I mean most dildos I use for G spotting are hard but the Tru Touch just works perfectly for me the squishiness cushions and squishes itself against my g spot like a soft G spot pillow. It also has a great ammount of girth for a simple dildo it is quite girthy and i love that.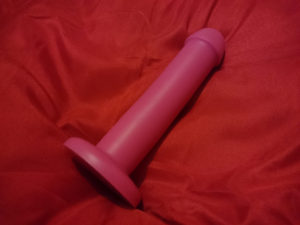 I really like the Tru Touch it is the only none realistic shaped dildo I own that is dual density and I am a huge fan of TRUSKYN. The affordability and quality of Tru Skyn is astounding and I really hope to try out one of the Butt Plugs I mean who wouldn't want squishy butt plugs?
Overall Rating
Appearance

Length

Girth

Shape

Orgasm
Summary
I really recommend if you are looking for a Dual Density toy and don't have a lot of money you check out Doc Johnson. The Tru Touch has a very simple design that is not intimidating and in your face penis looking which is great for beginners or those who do not wish to purchase a dildo that looks like a penis. The Dual Density is squishy so it perfect for those who do not like hard dildos. I also recommend it for those that want a great G spotting dildo although it doesn't look like much it really does hit the spot.
RRP:£68.44

You can find The Tru Touch at

DocJohnson.com