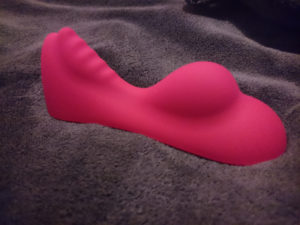 I was given the Ruby Glow free of charge in exchange for my honest review for Rocks Off. The fact I received the Ruby Glow from them is not going to affect the outcome of this review. Rocks of create the Ruby Glow along with Tabitha Rayne who designed it.
The idea was to design a vibe that could be used whilst reading erotic literature. Now I have read some of Tabitha Rayne's work (Clockwork Butterfly) and I really recommend taking a look she is a great author.
The Ruby Glow is designed for external stimulation with the ridges for clitoral stimulation and a vaginal mound to rest just at the opening of the vagina. That where most of the nerve endings in the vagina are, towards the entrance. It is also meant to be used through clothing as well as against your skin.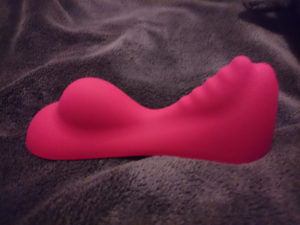 The best thing about the Ruby Glow is that it is hands free. You do not have to do any work at all just sit there and enjoy a good book whilst it sits between your labia. I mean what more could you ask for. There are two buttons on the front which is perfect as if you want to change the settings you just reach down and press the button. You don't have to take away or alter the position of the Ruby Glow to change the setting.
Another thing I found whilst on Tabitha's site is that not only is the Ruby Glow designed for hands free stimulation whilst enjoying a great novel, it can also be used for those who can't operate or reach their pubic area due to mobility issues. This means that even if other toys don't work for you, you can still get hands free stimulation to achieve orgasm. It is also great for those who can't have penetrative stimulation or those who don't like penetration.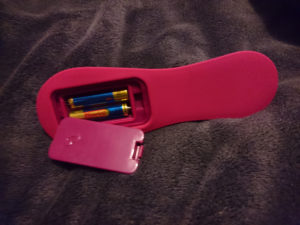 Now I had my eye on the Ruby Glow for a while and when Rocks Off offered to send It me to review I was chuffed. It is made from body safe silicone and has 10 vibration settings, 3 speeds and another 7 various patterns and rhythms. The Ruby Glow is battery operated and takes 2 AAA batteries to power. Now this isn't essential however it is the only thing that could be improved on the Ruby Glow. I would like to see a rechargeable version, I do like the handiness of a rechargeable vibrator and batteries are a pain in the bum. That said I can't really fault the Ruby Glow.
The ridges on the clitoral stimulator are great I like to wobble my hips from side to side whilst seated so they can really press against me. I like how easy to reach the buttons are whilst reading I can just reach down and press to change the vibration settings. The Vaginal/Perineal mound is a great shape the spherical egg shaped dome fits perfectly in the opening of my vagina. I also like how long the Clitoral Stimulator is because of its length it will fit most vulva types.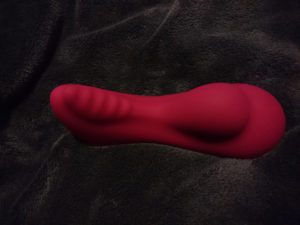 I am able to get started and ready for a great orgasm using the Ruby Glow. It doesn't make me orgasm straight away which is perfect. Instead of rushing things the Ruby Glow builds me up to orgasm slowly and then bam! Orgasm central. I do like the way it slowly increases my need to orgasm it gives me more time to read and build up to orgasm rather than just a quickly. The fact I can grind against the ridges and rock my hips whilst reading really saucy bits is great to get the scene going.
I think the Ruby Glow is a big hit and perfect for those who want hands free orgasms. I am very delighted that Rocks Off have had an Author design a sex toy, This to me is great as it really gives them the idea of a unique sex toy that can be versatile enough to use without manual stimulation.
Overall Rating
Appearance

Vibrations

Shape

Build Quality

Value For Money

Orgasm
Summary
I recommend the Ruby Glow to those who do not enjoy Penetrative stimulation or those that can't have penetrative stimulation. Those who can't manually operate a classic vibrator due to mobility or health issues. Those that want to be able to orgasm whilst sitting on a settee or at a desk. Those that want a vibrator that can be used externally and hands free. All Erotic Literature fans should give the Ruby Glow a go, everyone needs their hands free whilst reading a book right?
RRP:39.99

You can find The Ruby Glow at

Rock-Off.com