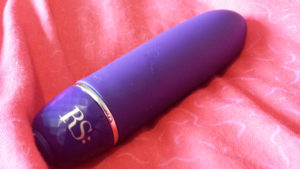 I received the Rianne S Classique Vibe free of charge in return for my honest review for Rianne S. I have previously reviewed Rianne S Items and so far they are great. Rianne S is a sole designer who started off with burlesque and masquerade items. She has now designed a new range of toys along with a great new website I really recommend you take a look.
The fact I was given the Rianne S Classique free of charge is not going to affect the outcome of this review. The Rianne S Classique comes in a great little storage bag along with a heart shaped padlock and two keys. The Classique I received was the deep purple one, How can I not love this colour it is one of my favourites (Hence my bog colour scheme).
The Classique Is neither a bullet vibrator or a classic vibrator it is somewhere in between the length is more like a bullet however the girth is more like a classic internal vibe. I think it's the best of both worlds. It is made from 100% silicone and abs plastic (battery cap) and this silicone attracts a lot of lint. There is also a golden rim around the battery cap which adds class along with the Rianne S emblem at the base.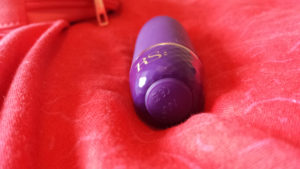 The Classique has 7 vibration settings 3 speeds and another 4 pulsating and inclining settings. These are powered by a single push button which is held to turn on and off and pressed to cycle through the settings. To operate the Classique you need 2AA batteries being the only battery operated vibrator form the new Rianne S range I can't really complain. As the name suggests it is a Classic, a simplistic vibrator that can be used for targeted stimulation.
Now the Vibrations are surprisingly great I mean for a battery operated vibrator. Usually I find them weak but this one is no different to the rechargeable vibrators from the new Rianne S line. They are somewhat powerful and get the job done within minutes.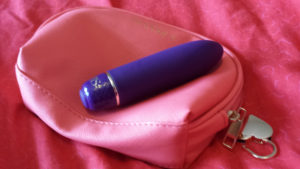 I really like using the Classique as a clitoral vibrator however the girth was just begging me to insert it I found the size great for stimulating my labia and the first couple of inches inside my vagina. That's where the most nerve endings are and I get most my orgasms in that area of my vagina. I am able to have a relatively quick and pleasurable orgasm using the Classique, I love the charm of this little vibe.
Overall Rating
Appearance

Build Quality

Vibrations

Orgasm
Summary
I really recommend the Clasique to those who are beginners to sex toys and don't know whether they want a clitoral vibe or internal vibe the Classique can be both. The simplistic design and controls are also beginner friendly. I also recommend it for those who want a chunky clitoral vibrator that has soft silicone. Basically the Classique has a great amount of potential and would be suitable for anyone looking for a simple elegant vibrator.
RRP:N/A

You can find The Classique at

Rianne-S.com