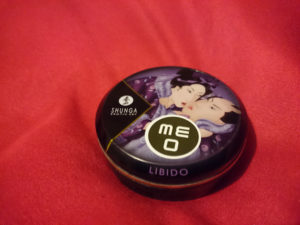 I was given the Shunga massage candle in Libido free of charge in return for my honest review from Meo.de I owe Meo a lot of thanks they have let me review a huge amount of their products and they are a very friendly thoughtful company.
The Shunga Massage candle in Libido comes in a medium sized black tin with some Asian graphics all around featuring two people in a sensual pose. This tin is ideal for on the go massage sessions, it also has a lid to keep everything clean and tidy.
Shunga say that the sensual atmosphere is created when the candle is lit and that it fills the room with Aphrodisiac aromas. We can say that this really is the case Mr and I both agreed that this candle smells of Tutti Fruitti Chewing gum it is very sweet and fruity and we both agreed it was the best smelling massage candle we have.
The instructions state you must allow the candle to burn for 20 minutes before you apply it. This hasn't been the case for previous candles we have used we usually have to wait until the liquid reaches the rim of the tin. However we went on with our bondage session. I was tied up and blind folded whilst Mr used a feather tickler to tease me along with a paddle and flogger. We had already begun our lovemaking.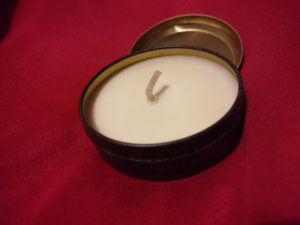 The room smelt amazing and I was lying down awaiting the candles warmth. The candle instructions' tell you to pour onto your hands and then massage the skin. I asked Mr to pour the candle (with it being blown out first) over my back. The warmth was just the right temperature when it hit my skin and Mr rubbed it in.
The Shunga Massage Candle Libido made my skin feel really moisturized and I did not feel any sticky or tacky residue on my skin. The fragrance lasted until the next morning and I still smelled of that amazing Fruity scent.
There is not a bad thing I can say about the Shunga Massage Candle Libido I am extremely happy with the quality of this candle and it is perfect for sensual play. I am intrigued by Shunga products and plan on reviewing more in the future.
Overall Rating
Appearance

Fragrance

Feel Against Skin

Burn

Value for money
Summary
I recommend the Shunga Massage Candle Libido to those who wish to engage in sensual play and erotic massage. Those who love fruity fragrances. Those that are looking for a good quality Soy candle. And finally to Tutti Fruitti fans.
RRP: £6.14

You can find The Shunga Massage Candle – Libido at

Meo.de