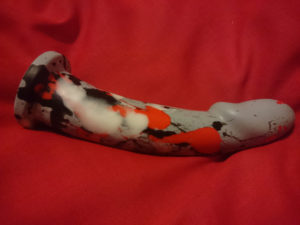 I received the Alex Noise free of charge in return for my honest review for BS Atelier they are a small manufacturer who make the most beautiful dildos each one is a work of art and the bright colours and patterns are fun and quirky.
So I picked out the Alex the simplistic abstract shape of this dildo had me wanting it as soon as I looked at it. The head is very prominent and resembles somewhat of a Glans without the whole realistic look. I love this I am not one for very realistic looking dildos so this dildo is very visually appealing to me.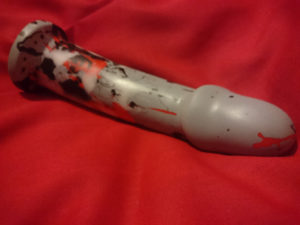 There are so many great colour combos and patterns on the BS site that I just found it hard to choose, I did ask Mr to help me pick the colour we went for the Noise this looks like it has paint splatters up the shaft, I really like the grey/red/white/black tones and my inner teenager is really excited by the way this dildo looks.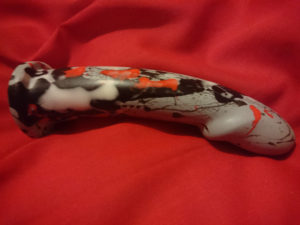 Okay so the firmness of this silicone is quite firm which I would expect the shape of this dildo and the prominent head means it is targeting your G spot and the firm silicone helps that fact and enables you to have that firm pressure on your G spot. The silicone also has a sort of squish to it though as well as being firm you can bend and squish the silicone slightly.
That head though! My goodness that head! The slim shaft means I can thrust as much as I want without being too full to squirt. The head does wonderful things to me and tugs my G spot during use.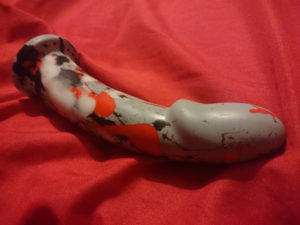 The natural curve to the shaft is great because I don't have to put a lot of pressure on the dildo to target my G spot it just effortlessly brings me to orgasm. The head just nestles against the back of my G spot tugging and pressing it as I thrust, I really am just in love with this dildo.
Overall Rating
Appearance

Shape

Girth

Length

Orgasm
Summary
Okay I am a little shocked at how much I love this dildo something so simple and I love it I just can't explain how much I really like how easy this dildo is to use. I think it would be a perfect harness dildo the head is sort of tapered so it will allow for easy insertion. It makes a great first dildo for beginners the none-intimidating look of this dildo is really its realistic, but not at the same time. The length and girth are not huge and ideal for most people. The curve will target both G spot and P spot so this dildo is just suitable for anyone and everyone. With the colours and patterns available you can choose one to suit your style and personality. So yes I really recommend this dildo to anyone looking for a great curved dildo that has a flared base.
RRP: £67.70