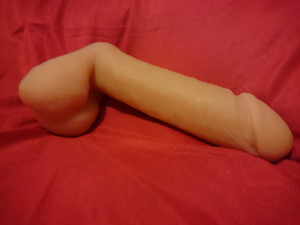 I was sent the Doc Johnson Platinum TRUSKYN The Tru Ride in return for my None Bias review free of charge from doc Johnson the fact I was given this dildo free of charge is not going to affect the outcome of this review. I have previously reviewed for Doc J, when I found out they have created a new Dual Density silicone dildo I had to ask for one to review.
Now this time last year I did not even own a single Dual density silicone dildo. In fact I hadn't even heard of such a thing. So what is TRUSKYN and what has dual density got to do with it? Well Dual density silicone is a product, say a dildo which has a very firm inner core of hard silicone it is then coated in a softer more skin like silicone layer. The top layer is more like skin whereas the core feels quite muscular. Creating a more realistic feel. Doc Johnson have decided to call their Dual Density line TRUSKYN I kinda like the name.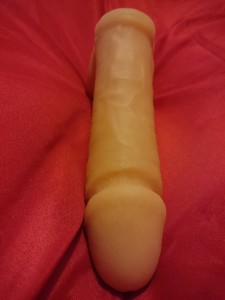 I was eager to see how the Doc J TRUSKYN stood in terms of real feel likeness compared to other brands I have. Now the main thing is that Doc J have now created a Dual Density silicone dildo that is a lot cheaper than most I have seen. I do not know how they do it but they make a TRUSYKN dildo affordable to the cheaper market which I think is amazing as not everyone can afford to pay a huge sum to get a dildo they want. Doc J have made it possible.
So this dildo is a beauty. It has all the great things I look for in a realistic dildo, the prominent head, the foreskin tissue, the vein detailing, the skin like texture, oh and a nice set of balls. The shaft is very squishy and the top layer of silicone can be compressed and moves like skin should. The head is more compressible and the inner core can be felt throughout the dildo and even in the balls. The balls have a nice squish to them but you can still feel the firmness that you need.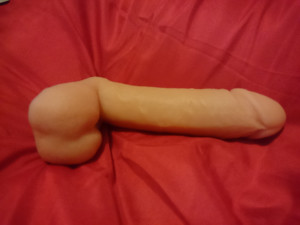 I was in love with this dildo before I even used it. Mr decided to use it on me and I really enjoyed the girth it was perfect. The length I was able to take all of with it being 6 inches it was really comfortable. Mr found using the balls makes thrusting easier then with a curved base dildo. The feel of the dildo was very much like a penis it didn't have the warmth of skin but it felt very much like skin. If I closed my eyes I honestly wouldn't know much of a difference.
I think Mr liked the fact that I was enjoying the dildo and it was also visually appealing to him the way it looked and felt meant it was just like having sex. Now there comes a spanner in the works. I was happily rubbing my clit to Mr's thrusts when I felt myself climbing to orgasm and then I knew I needed to ejaculate! How could this be? It isn't a g spot dildo, it isn't targeting my g spot. Well I went with the flow and then I just erupted having a double orgasm, my clitoral orgasm turned into a huge amount of ejaculate. I was stunned.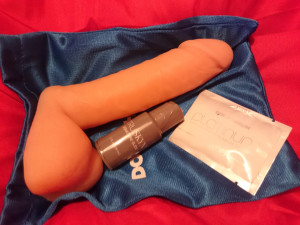 When I washed the Doc Johnson TRUKYN Tru Ride later I found out why. There the Tru Ride was just standing to dry when I noticed how much bend the shaft has, the shaft of the dildo leans and curved up with the weight of the dildo much like a penis would. So that's how I had managed to stimulate my g spot indirectly.
Overall Rating
Appearance

Texture

Length

Life Like

Build Quality

Value for money

Orgasm
Summary
I am in love with the Doc Johnson Platinum TRUSKYN the True Ride and I really recommend it for those who want a realistic looking and feeling dildo. It can't get much realer than this! For those looking for a dildo that feels like a penis. For those looking for a good quality affordable Dual Density dildo. For those who want to try out a dual Density dildo. Basically Everyone!
RRP: £76.13

You can find The TRU Ride at

DocJohnson.com