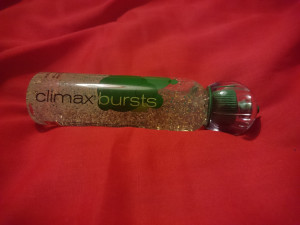 I received the Climax Bursts Anti-Bacterial Toy Cleaner free of charge in return for my honest review by the folks at TopcoToys. They asked me if I would like to review for them so I picked out a few items. The fact I received this item free of charge is not going to affect the outcome of this review.
Now I have previously tried very few Sex Toy Cleaners but find they are great for on the go cleaning of sex toys or for holidays and traveling places where you will need to give your toys a quick spritz up. I mean I am not sure what the cleaning lady would think if I left toys lying around to air dry.
Climax bursts Anti-Bacterial Toy Cleaner has little balls that burst upon contact with a surface and it also has the amazing quick access pop-top lid. Upon inspection I noticed it has a sort of slight apple fragrance that I was able to pick up. It is ever so slightly fruity. Not only can you clean your sex toys but they will smell like apple afterward.
Inactive Ingredients:
Aceylates Copolymer
Alcohol Denat
Ascorbyl Palmitate
Cellulose
Chromium Hydroxide Green (CI 77289)
Citrus Aurantium Dulcis (Orange) Oil
Cocamidopropyl Bentaine
Coco-Glucoside
Disodium EDTA
Gyceryl Oleate
Hydroxypropyl Methycellulose
Iron oxides (CI 77492)
Lactose
Mannitol
Methylchloroisothiazolinone
Methylisothiazolinone
Polyquaternium-7
Propylene Glycol
Purified Water
Sodium C14-16 Olefin Sulfonate
Sodium Hydroxide
Sodium Laureth Sulfate
Tocopheryl
Acetate(Vitamin E)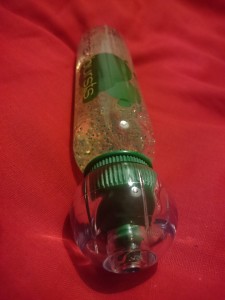 When I use the Climax Bursts Anti-Bacterial Toy cleaner I just squirt a little on the toy lather it up and give it a good old hand-job scrub. When I feel it is all clean I rinse with warm water and let the toy air dry. Whenever I use the Climax Bursts Anti-Bacterial Toy Cleaner I do notice the balls sort of just pop and then sort of disintegrate. Until they are no longer there anymore they just vanish.
The Climax Bursts Anti-Bacterial toy cleaner clean my toys pretty well and I am happy with how well this product works.
Overall Rating
Appearance

Efficient

Efficient

Value for money

Viscosity
Summary
I recommend the Climax Bursts Anti-Bacteria toy cleaner to those who want a nice smelling toy clean it doesn't smell like hand gel. Those who want a toy cleaner that foams up when you are cleaning the toy. Those that want a toy cleaner that is easy to access quickly (pop-top lid) And to those who want a toy cleaner with bubbles that burst.
RRP: £6.25

You can find The Climax Bursts Anti Bacterial Toy Cleaner at

TopCoToy.com