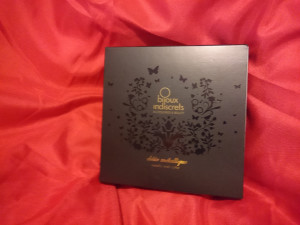 I received the Bijoux Indiscrets Desir Metallique Collar free of charge to review for the lovely UberKinky. I had a choice of colour so chose the gold as I thought it looked very regal and elegant. The fact I received this product free of charge is not going to affect the outcome of my review.
So this is my very first time I have worn a collar during sex! I have tried many bondage implements however the collars have always frightened me they usually look thick and bulky and often like they are made strictly for males or even animals. I do however love the look of this one it screams elegance and class. So it as time I popped my Collar cherry. Uber Kinky have a huge range of Slave Collars so if this is too feminine for your taste they may have something you like.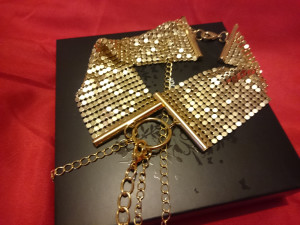 The Collar comes in a cardboard box and inside is a small square that it sits in this box is ok to use if you was giving this collar as a gift however it is fiddly to get the collar back in without it getting knotted. Now the Desir Metallique Collar has little circle panels that are super flexible and look very elegant around the neck. It has an O loop which can be attached to chains and other binding implements.  There is two chains that attach to the O ring one is a thicker linked chain this dangles down the centre of the body. The other is a thinner linked chain this unclips and gets clipped around the back so that the chain drops down the side of the breasts.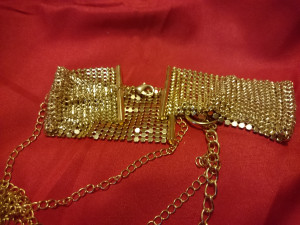 The collar itself is easy to put on and there is a chain link with variable sizes to ensure it can fit most people. I would not recommend this if you are male or have a very large neck area as it is on the petite side and designed for a feminine neck shape.
I felt really comfortable when wearing the Desir Metallique Collar and it looked amazing especially when worn naked. The chains hung loosely around my body and often slid across Mr's whilst we were having sex. I also could feel the chain around the back dangle between my ass cheeks this was quite exciting.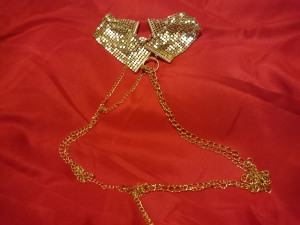 Mr commented on how nice it looked and I really like how you could wear this out as if it were an abstract necklace and people wouldn't think otherwise.
I recommend the Bijoux Indiscrets Metallique Collar to those looking for an elegant collar they can wear that is light and very easy to attach. I also recommend it to beginners as it is not intimidating and very pretty looking.
Overall Rating
Appearance

Comfort

Build Quality

Ease Of Use
RRP: £29.99

You can find The Bijoux Indiscrets Desir Metallique Collar at

UberKinky.co.uk