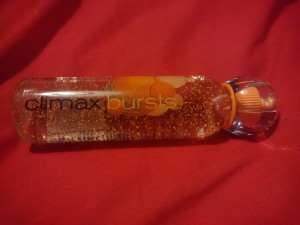 I received the Climax Bursts Aphrodisiac Enhanced Lubricant from TopCoToys in return for my honest review. The fact I was given this lubricant free of charge is not going to affect the outcome of my review. Topco Toys are the makers of the Twerking Male Masturbator. I think this is brilliant and would love to have a twerk off with one. However they are very expensive which means trying to get one to review is almost impossible.
The Climax Bursts is a range of lubes an essentials that feature little balls that pop on contact with the skin, I swear I had face wash like this once. Anyway I decided to pick this out so I could see what it feels like against my skin. I also am extremely sensitive to lubricants and find I have a reaction to most so I wanted to see if this was the case for the Climax Bursts.

The most amazing thing about the Climax Bursts range is that they have pop-top lids. They look like sports bottles. And are very aesthetically pleasing to look at. Physically it also plays a role in how easy it is to apply lubricant just pop the top( you can do it one handed) and then squeeze some out and push the lid back down again. No flip lids no squirty pumps just easy application of lube.
Ingredients:
Purified Water
Glyceryl Polymethacrylate
Hydroxyethl Urea
Propylene Glycol
Aegopoduim Podagraria Extract
American Ginseng Root Extract
Arginine HCI
Benzonic Acid
Cellulose
Centella Asiatica Extract
Chlorphenesin
Corynanthe Yohimbe Bark Extract,
Glycerin
Hydroxypropyl methylcellulose
Lactose
L-Dopa
Ledpidium Meyenii Root Extract
Methylparaben
Panax Ginseng Root Extract
Piper Methysticum Leaft/Root/Stem Extract
Phenoxyethanol
Sodium Carbomer
Tocopheryl Acetate
Iron Oxides (CI 77491), (CI 77492)
The Climax Bursts Aphrodisiac Enhanced Lubricant is made in the USA. I did notice Lactose on the ingredients list. I you have a Lactose allergy I would be very cautious about using this lube.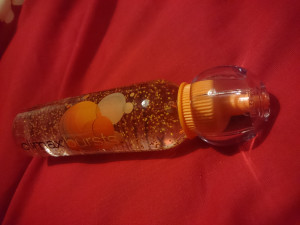 I had no reaction whilst using the Climax Bursts Aphrodisiac Enhanced lubricant and when applied I felt a sort of tingling sensation I suspect this was the beads "popping" on my skin. The Climax Bursts Aphrodisiac Enhanced lube is also very easy to wash off and it doesn't stain clothing.
As far as the Aphrodisiac side of things I did notice a slight enhanced arousal for me a few moments after I used the lube. I also managed to orgasm slightly quicker than normal. There is also no smell to the lube at all and only a slightly sweet taste although it is not intended to be eaten, licked or swallowed.
Overall Rating
Appearance

Viscosity

Ease Of Use

Clean Up
Summary
I would recommend the climax Bursts Aphrodisiac Enhanced Lube to Those looking for a fun lubricant that has popping balls. Those that want an Aphrodisiac enhanced lubricant. People looking for a lube that is easy to apply. People who want a lube they can use in a hurry.
RRP: £7.73

You can find The Climax Bursts Aphrodisiac Enhancing Lubr at

TopcoSales.com