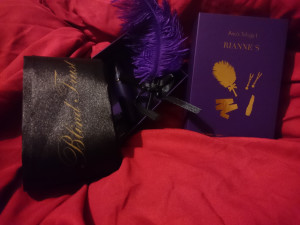 I recived the Rianne S Ana's Trilogy I in return for my honest review. The fact I was given this product free of charge is not going to affect the outcome of this review in anyway. Rianne S is a small company designed by Rianne she carefully selects and designs all her sex toys. She is most commonly known for the Forbidden Fruit Apple Vibrator.
The Ana's Trilogy I includes a pair of nipple tassels which feature a shiny purple bead. A purple feather tickler that has a black ribbon wound handle and a bow. A Silky ribbon, long enough to be used as a bondage tie to retrain ankles and wrists the ribbon features the wording "Blind Trust" and the Rianne S wording in a gold font. It can also be used as a blind fold. You also get a Lipstick vibrator. The lipstick is red and has gold detailing with a purple case which matches the theme of the set. All this comes complete and packaged in a lovely purple box.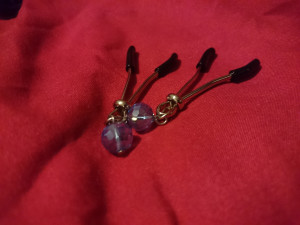 The Nipple tassels are made very well and the bead is securely fastened. It has an easy to use adjustable sizer. You simple just push the stopper across the length of the bar to shorten or widen the nipple clasp.
The ribbon is very versatile and can be used to tie up your partner or to use as a make shift blindfold. This ribbon has 2 uses so I am glad they designed it with such versatility in mind. It's super silky and soft enough for beginners to engage in soft bondage.
The Lipstick vibrator is very elegant and you really wouldn't notice it was a vibrator if you found it in a bag. It is discreet and very lovely to look at. It has one continuous speed. Which is ideal for on the go fun. The fact it is shaped like a lipstick means you can just pop it in your bag to use on your travels. The single speed was enough for me to orgasm which I was quite pleased with.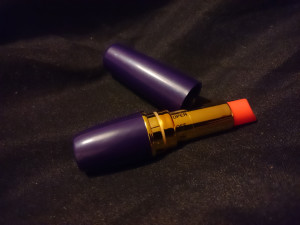 The Feather can be used for sensual massage. We used it during a massage session Mr was able to trace it along my body with ease it felt very light and fluttery against my skin. Accompanied by the ribbon this can lead to come quite interesting sensual play. It is very well bound and the ribbon is easy to hold.
I really like the idea that Rianne S decided to put together a box that is filled with all the stuff you need to spice things up. It really is an amazing idea. For someone wanting to have a little fun in the bedroom they just pick up the Rianne S Trilogy I and they get a vibe, nipple tassels , ribbon and feather tickler all In one purchase everything you need to spice up your night.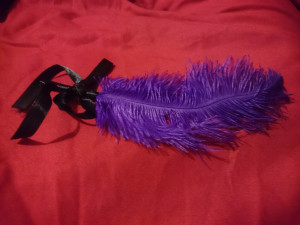 I am very pleased with the quality of the products inside this box and overall they are very well made and would be suited to most women. Fancy being fantasy burlesque performer in your own room for the night then grab the Rianne S Trilogy I.
Overall Rating
Appearance

Nipple Tassles

Ribbon

Vibrator

Feather

Build Quality

Valuve for money
Summary
I recommend the Rianne S Trilogy I to women who want to try role play. Those that want to try light bondage and sensual play. Those that like the thought of a discrete lipstick vibrator. Those that want to try incorporating different aspects into their sex life but don't want to buy individual product or don't know what products to buy.
RRP: £26.06

You can find The Rianne S Trilogy I at Amazon