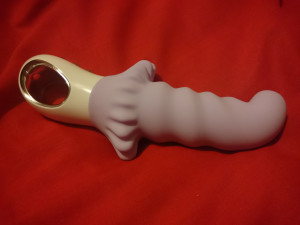 I received the Fun Factory Moody in return for my honest review by the lovely people at Fun factory. They have helped me bring you many great reviews and have supported my blog from the very beginning you should really check them out! The fact I received this toy free of charge is not going to affect the outcome of this review.
My first thought of the moody was how amazing it is that it had a flared base. This enables you to use this vibrator anally the flare also carried the vibrations really well which means you can get some perineum stimulation, or if you are using it vaginally you will be able to use the flare as a clit stim.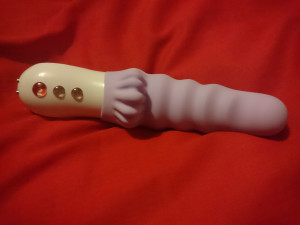 The second thought I had was how impressive the texture is! Not only does the moody have amazing texture it also has a very prominent curve which will act as both a G-Spot and P-Spot stimulator.
Again this toy is gender neutral this is also portrayed in the colours available: Black, Orange and purple to me all of these colours are neutral and I really like the fact Fun Factory have decided to use them. Fun Factory are known for the bold bright colours they use I am very happy they didn't just settle for pinks and blues.
The Fun factory Moody is also 100% waterproof. And it is also a rechargeable vibrator and uses the same Click'n'Charge system as the Tiger G5, Miss Bi, and Bi Stronic Fusion. It also has FlexiFUN Technology which enables the shaft of the vibrator to bend an awful lot and when thrusting this flex moves the shaft to touch all the right places. The Moody has 6 vibration modes and 6 Rhythm Modes and is made from 100%silicone like all Fun Factory Toys. The Moody also has an extra powerful rumbly motor.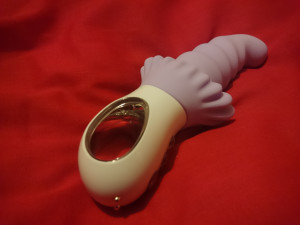 My experience when using the moody was an extraordinary one. I was intrigued about the curve and how that would lead me to orgasm. So away I went with testing it. After inserting it fully and thrusting I noticed that it went past my G-Spot I had expected it to nestle against the back of it however it was quite long. This wasn't working so I pushed down on the handle and back up so the flare was against my clit this worked wonders. I used a rocking motion instead of thrusting and even threw in some side to side action for good luck! This coupled with the Rumbly vibrations sent me over the edge.
I also really like using the Moody as a clit stim those rumbly vibrations penetrate deep into my skin allowing me to have quick efficient clitoral orgasms. I don't usually like rumbly vibrations and I hate the We vibe Tango it just numbs my clit. However Fun Factory seem to have gotten the recipe for rumbles perfect for me.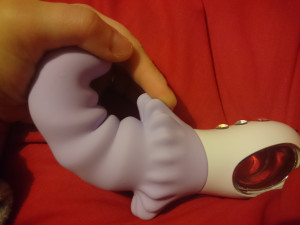 I really like the Moody and I think I may have been converted into liking rumbly vibrations. Who knew? Right! That I could be a rumble lover the Moody definitely has changed my mood and the way I feel about rumbles.
Overall Rating
Appearance

Texture

Length

Girth

Vibrations

Orgasm
Summary
recommend the Moody to anyone who is looking for a curved vibrator that is anal safe! Anyone who likes rumbles. People who want a rechargeable anal vibrator. People who want a gender neutral toy. People that want a vibrator that can be used by partners regardless of sex. People who are looking for a great clit stim honestly I could just go on all day. Just get a Moody! You won't regret it this vibrator is amazing.
RRP: £70.20