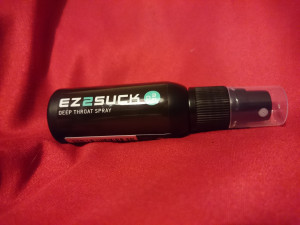 I was given the EZ2Suck Deep Throat spray by Meo.de in return for my honest review. The fact I was given this product free of charge is not going to affect the outcome of my review.
EZ2Suck is a deep Throat pray that Relaxes your gag reflex so that you are able to perform a deep throated blow job without gaging. Now I love giving Mr a blow job I feel so confident and it empowers me. I have been told I am pretty good at them so this gives me a huge ego boost. I often like to give Mr Bj's so I was intrigued with the EZ2Suck spray.
Mr has 7 inches of length so he isn't average or even small this makes Bj's really hard I can never take all of him in. And often have to use my hand to compensate. Due to his length I find the best way to deal with head is to use my tongue a lot lots of licks and kisses usually compensate for the lack of him I can manage. He is happy with the usual way I go about things.
Ingredients:
Aqua
Glycerin
Laureth-6 Caprylic/ Caprylic Glycerides
Methyl Lactate
Lactic Acid
Mentha Peperita
Benzyl Alcohol
Benzonic Acid
Sorbic Acid
Limonen
Linalool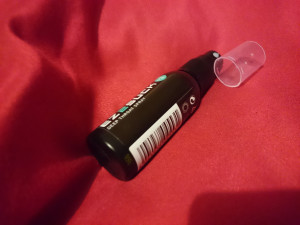 However we still where eager to try the EZ2Suck Spray I squirted 2 puffs of the spay towards the back of my throat. I automatically tasted the mint however there was a tangy and slightly bitter aftertaste which I wasn't very keen on. The spray got working straight away I felt a tingly numbness in the back of my throat. I decided the only way to get rid of the taste was to use the Cock Candy Cherry.
So there I was about to preform and I was doing my usual routine. I got brave and decided to go in and just try and see if the spray had worked. I was there Mrs Cock was literally down my throat I still felt the sensation of him being there and the depth but I didn't gag. It was like a parlour trick or something I was really happy I finally could take him. I varied my rhythm and licks Mr was about to come but held back because I was having such a good time. I them put the Spray to the test and thrust after thrust he was at the back of my throat this was really comfortable and I was so proud. He came seconds later. And with a few compliments and I love you's he was exhausted. I could tell that he was really happy with using the product.
Overall Rating
Appearance

Viscosity

Flavour

Orgasm
Summary
I did ask him if it was better than normal his reply "I didn't think it could be better, but it actually was" So there is your answer. The EZ2Suck deep throat spray works there is no denying that. I recommend it to people who's lovers have an above average length penis, people who struggle to perform a BJ without gagging. People who have a really sensitive gag reflex. And those that have wanted to deep throat but have never been able to before.
RRP: £13.20

You can find EZ2Suck at Meo.de