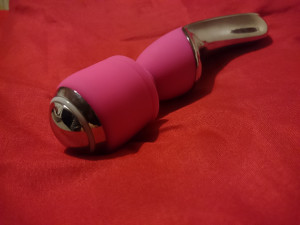 I was given the Nalone Electro Wand free of charge in exchange for my honest review for sextoys.co.uk I have reviewed for them in the past so as soon as I saw the Electro Wand I asked if I could review it. The fact I received this toy free of charge is not going to affect the review.
I have never used an Electro Stim toy before. It has been on my to do list for a while but I never got around to getting an E-Stim. I was mainly intrigued by the sensations I could get from an E-Stim in terms of heightened sensitivity.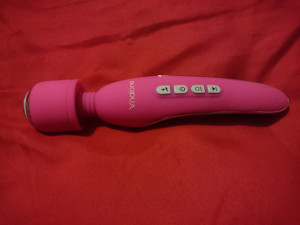 The Nalone Electro Wand Has 7 stimulation modes in the head and in the handle. The handle has a motor so it can also vibrate and conduct Electricity just like the Head. Basically this is amazing your partner can feel the same sensations through their hand as you can on your body. This means if it is up too high they will be able to feel the shock and turn it down, it leaves all the guess work out.
The Electro wand had 5 intensity levels for the Electro mode this can be used alone or accompanied by the vibrations. They each have different buttons to control the modes so you can initially have low vibrations and high Electro at the same time. This gives you a chance to customise it to suit your needs, I like the fact there isn't any pre-set variations. The vibrations range from low, medium, high to inclining, declining and pulse modes.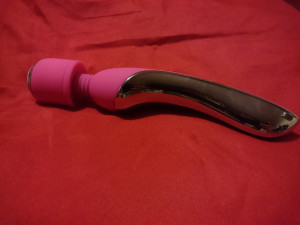 The Electro mode sends Electro Magnetic pulses to the metal tip of the Wand and also the Metal part of the handle. These are exactly what they claim to be and that is pulses, you can feel a sort of throbbing tingle when the E-stim mode is on. The Nalone Electro Wand is also rechargeable and 100% waterproof. This still boggles me I mean it conducts an Electric current but is waterproof? I have to admit I was too much of a wimp to try this wand in the bath.
I was looking forward to a sensual massage using this wand. Mr was able to figure out the controls with ease and soon got accustomed to using the wand. I have to admit I didn't notice a difference at first however once I was relaxed I could feel the pulses. They were tingly and felt incredibly nice. It did my back wonders. I would say it is by far the best back massage I have had with a wand and I definitely prefer the Electro Magnetic Wand to an average Wand because it adds a little more sensation into the mix and the top Stim mode really gets in there and relieves the stress a little like a tens machine I guess.
When using it on my Clit I was a little apprehensive and started on the low setting the vibrations soon got me going. I was able to feel sharp nips of the Electro Magnetic Pulse it spread to my outer labia which felt great. I did use all 5 settings and I have to say that the 5th one was a little too much for me. However I did enjoy the tingly pricks of the 2nd level the most.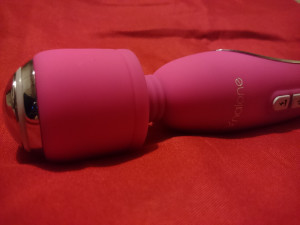 I really enjoyed using the Nalone Electro wand and I have to say I enjoyed my first experience with an E Stim and I will be looking out for more in the future.
Overall Rating
Appearance

Vibrations

Electro Magnetic Pulse

Ease Of Use

Orgasm
Summary
I recommend that the Nalone Electro Wand is suitable for those who want to experience an E-Stim but still have the option to use vibrations or even combine the two. To those who are looking for a great rechargeable wand. For couples who are looking to experiment with new sensations.
RRP: £109.99

You can find the Nalone Electro Wand at SexToys.co.uk