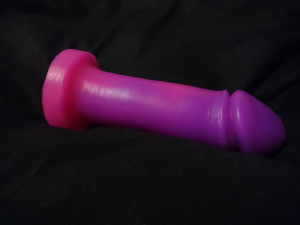 I was given the Adam Bi in return for my honest review by the lovely people at GODEMICHE. The fact I have received the Adam free of charge is not going to affect the outcome of this review.
I eagerly awaited the chance to review the Adam I heard about the dildo in mid 2015 and I immediately asked if I could review it. It was still in the early stages back then so I managed to secure a spot. When it was released I was just in love with the head it is so prominent and bulbous that I just had to try it. I mean that wasn't the only shock this dildo is £20! Really a silicone dildo for £20 is just amazing value for money and this means that safe sex toys are very affordable and at that price most people will be able to afford an Adam.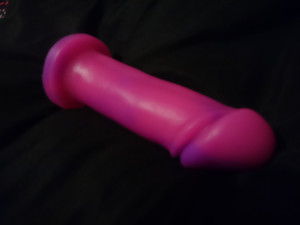 What's more the Adam comes in a bright array of colours from the bi range pink/purple and yellow/blue to the UV colours which are practically every colour of the rainbow. You can also get your Adam in a pearlescent red/blue/purple or a gold or silver colour. Basically it is a realistic dildo but you can have as much fun with the colour as possible to make it less realistic in colour. Who doesn't like rainbow coloured dildos? Also if you want a specific colour combination they will make it happen just email them before you order.
So GODEMICHE are a new manufacturer they have a small amount of items available right now. However there products are ever growing and I really suggest you check out their email subscription as you get all the details of new products that are coming out and special prices before anyone else sees them. So far GODEMICHE have the Adam, Lance, Peg and Plug-B I have all of these luckily enough so if you are interested to see how they preform look out for my reviews. GODEMICHE are a UK based company which I am really proud about I feel that there isn't enough Sex Toy manufacturers in the UK so when a company like GODEMICHE appears it really fills that gap.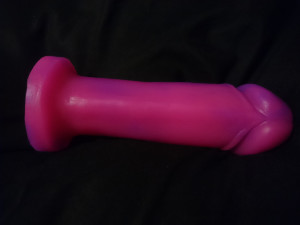 Okay so let's get down to Adam well the shaft is 6inches in length but Adam has a huge tonne of girth. I am a girth lover so this dildo just makes me want to scream with joy! The Head is extremely prominent and it really is just a very good looking dildo. Everything is proportionally shaped. The Adam has a flared base so for those who are brave enough to want to try the Adam anally you can. He's a little too girthy for me. However you should also check out the Peg that is designed for anal beginners. The silicone is really firm which is what I like although I would like to see if GODEMICHE could bring out a dual density Adam oohh that would feel so realistic. The firmness of the Adam also gives firmer rubbing against your g spot so I am torn between whether or not I would like it softer just maybe a dual density option. I dunno.
So the Adam doesn't need a lot of lube I found this out when I used a big amount expecting the silicone to have drag however it really doesn't and only needs a small amount. Once the head in in it immediately rubs my G spot the pressure is amazing. I was able to make both short and long thrusts really easily with the Adam. I also liked the fact that every time I moved the dildo I had an orgasm literally this dildo has given me the most orgasms I have ever experienced when using a dildo. The shape feels amazing and very realistic. The girth fills my vagina. I also feel my vaginal walls clench around the dildo specifically the head this is great mid orgasm ad the girth of the dildo reaches all the right spots.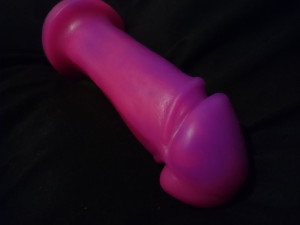 Overall I cannot really say one negative thing about the Adam the price is just incredible! The look of the Adam is amazing! The feel of the Adam is just the best experience I have had with a dildo as of yet! It is so simple yet it touches all the right places! I just don't know why something this simple exceeds even my expectations. Let's face it I am a bit of a snob when it comes to dildos and have more dildos than vibrators, the Adam isn't complex it isn't a strange shape or doesn't have a lot of texture but damn it feels amazing!
Overall Rating
Appearance

Length

Girth

Shape
Summary
Seriously a dildo for £20 that works as well as this! Go and get one it will be the best thing you do. If you are on a budget I recommend the Adam. If you are looking for a simple dildo I recommend the Adam. If you want a semi-realistic beautifully coloured dildo I recommend the Adam. Or even if you just need a bit of girth get the Adam!
RRP: £20.00