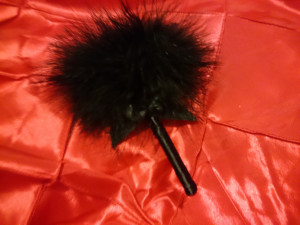 I received the Tickle Me Tickler in return for my honest review free of charge by the lovely people over at Meo.de They have given me a series of items to review so look out for them in the coming weeks.
The Tickle I Tickler is from Bijoux Indescrets they are most commonly known for the Diamond vibe they also released although I didn't have the chance to review that vibe. The Tickle Me tickler is a lovely feather tickler that is shaped circular and has lots of feathers meaning it is very plump and not thin like most I have that only have two feathers on and they fall off most the time. Anyway this is great quality and the handle is completed by a soft ribbon ad where the handle and feathers meet there is a bow of ribbon to set the tickler off.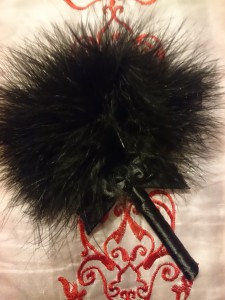 The Tickle me feather tickler is very gentle and great for all types of users. It left tickly trickles in its path when it was used over my back and legs. We used this during sensation play. We coupled it with the Ariadne Cat O Nine Tails to offer both gentle flutters of the tickler and harsh bites of the cat o nine tails.
All the time we used the Tickle Me tickler I could not feel the ends of feathers poking me all I felt was soft fluffy tickles. It is compact and discreet so would fit into a purse or bag for on the go action. I also really like the short handle this means you have more control over the tickler.
Overall Rating
Appearance

Build Quality

Feel
Summary
I highly recommend the Bijoux Indescrets Tickle Me Tickler to anyone who is looking to delve into sensation play it is very versatile and is suitable to most people advanced or beginners. It is a really good quality tickler.
RRP: £7.45
You can find The Tickle me Tickler at

Meo.de