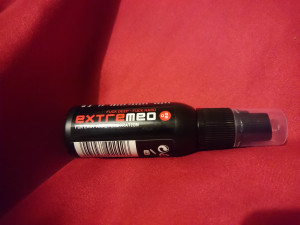 I was given the Extremeo anal penetration spray in return for my honest review by the folks at Meo.de the fact I was give this product free of charge is not going to affect my review of it.
Extremeo is a spray that is applied to the anus prior to penetration. This spray relaxes the muscle tension without numbing the area this way you still get to feel everything it is just easier to insert say a butt plug or dildo.
Extremeo is only to be used for anal use and it is not recommended to use Extremeo on any other part of the body. It is a spray bottle and to apply you just squirt two times and wait a few minutes for the ingredients to take effect. The liquid itself is not oily and almost watery however you can hardly feel it due to the viscosity and thinness of the liquid.
Ingredients:
Aqua
Glycerin
Laureth-9
PEG-6 Caprylic/ Capric Glycerides
Methyl Lactate
Lactic Acid
Eugenia Caryphyllus
Soduim Benzonate
Potassium Sorbate
Eugenol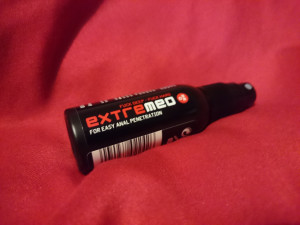 The Extremeo almost has a sort of menthol type of spiced apple sort of scent. This is not overpowering and smells quite nice. Extremeo also adds sensation to anal it enables you to feel everything heightened for example you have stronger, longer orgasms.
My experience was a positive one I used the Exremeo before putting my Fox Tail Butt Plug in. I also used some anal lubricant to insert the plug into me. This was done well and I was very happy with the way Extremeo worked I was more relaxed and I could feel that I wasn't as tense as I would've been without it. I was still able to feel every sensation however I was just more relaxed from the start.
Overall Rating
Appearance

Ease Of Use

Effectiveness
Summary
I really recommend Extremeo for anyone who wants to experience anal play but are too nervous or on edge it really helps with the process if you are relaxed leaving everything to be a lot more pleasurable.
RRP: £21.26
You can find Extremeo Srap as part of the Anal limits set at

Meo.de