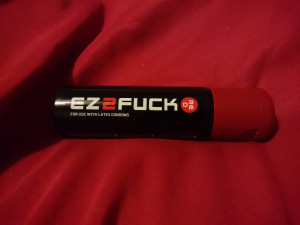 I was given the EZ2Fuck silicone lubricant free of charge in return for my honest review by Meo.De I have a range of their items to review so please look out for them.
First of all EZ2Fuck is a silicone based lubricant that is safe to use with latex condoms which is great for when you need extra lubricant. It is recommended you use this product for anal use as silicone lube is very long lasting and the smallest drop goes a very long way.
I also like to use silicone lubricant with my glass and wooden toys and the EZ2Fuck lube is a very smooth tick silicone lubricant that I can use a tiny amount of and be very ready to take anything I want to penetrate with.
Ingredients:
Demethicone
Demethiconol
Cyclomethicone
As you can tell from the ingredients list there are very little ingredients in this lube which is always a good sign as manufacturers often try to trick you into using dangerous materials and the more ingredients and strange words can leave most people confused so please check the ingredients on lubes before you buy.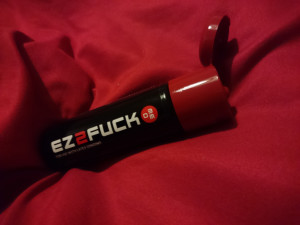 I chose to use the EZ2Fuck lube on a dildo I was sent to review this dildo was a material which I wasn't comfortable with using without a condom. So I covered this dildo in a latex condom which I them lubed up with the EZ2Fuck lube I also added a little to my clit so it would be easy to use a bullet vibe.
The dildo was able to slip in easily and it was quite a girthy one so I am very happy with the help I acquired from the EZ2Fuck lube it is amazingly long lasting and whilst I was using the bullet on my clit I did not need to re-apply the lube at all. I also found myself thinking for the first time every "maybe I used too much lube!" which is shocking because I didn't put a huge amount on the dildo.
The EZ2Fuck lube is very easy to wash off your usual routine will wash most of it off. It doesn't get sticky or tack and doesn't leave any residue which are basic things I look for in a lube.
Overall Rating
Appearance

Viscosity

Ease Of Use

Clean Up
Summary
I really recommend the EZ2Fuck lube if you are looking for a silicone lube that will last a while and that is thick enough to use for anal and during water play.
RRP: £11.22
You can find EZ2Fuck Sillicone Lubricant at

Meo.de