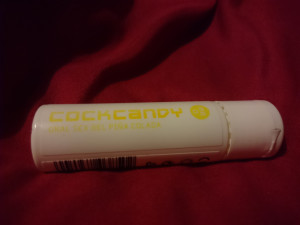 I was given the Cock Candy Pina Colada free of charge in return for my honest review. I owe thanks to them for sending me a few items to review so please look out for the rest of the reviews in the coming weeks.
So Meo do a fab range of flavoured lube called cock candy I really like the sound of the name to be honest. It makes using the product like licking a flavoured lolly. I mean let's face it I love giving bj's but after a sweaty day at the office it gets a bit yacky down there. So flavoured lubes can help with that and to be honest I have a sweet tooth so I love flavoured lubes.
Ingerdients:
Glycerin
Aqua
Hydroxypropyl Guar
Propylene Glycol
Panthenol
Sodium Sacharin
Citric Acid
Aroma (flavour)
Titandioid
If you have any allergies to any of those ingredients then its best to find an alternative luckily we don't.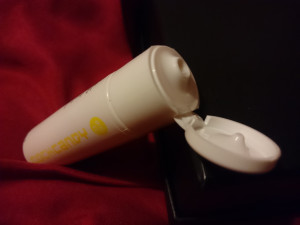 So what was the flavour like well it was insanely yummy I mean you can really taste the pina Colada. It sort of has an alcoholly taste however there is no alcohol. You can definitely taste the pineapples it has a very fruity sort of Milky, acidic, sweet taste. The Cock Candy Pina Colada is white in colour staying true to the pina colada traits. I really enjoyed using the Pina Colada lube and Mr was very please indeed. I made sure i licked every last drop of him and we were both very happy with the product.
You can purchase the Cock Candy Pina Colada in singular30ml bottle this will last for quite a few uses. However I think that Meo should consider making a large bottle also so that we have the option to choose the size rather than getting two or three bottles. That said you can also get the Cock Candy Pina Colada in the Cock Candy pack of five which includes all five of the Cock Candy flavours in a toiletry travel case. This is great for those who want to try all the flavours before settling on their favourite.
Overall Rating
Appearance

Viscosity

Flavour

Clean Up
Summary
I love Cock Candy Pina Colada and it is very highly recommended by both me and Mr. It is extremely yummy and washes off great it doesn't get sticky or greasy and lasts quite long without drying up.
RRP: £5.16
You can find Cock Candy Pina Colada at

Meo.de