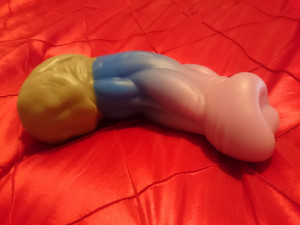 I recieved the Stan dildo in return for my honest review by my all-time favourite company Bad Dragon. The fact I got this product free of charge will not affect my review. So I haven't been able to give a bad review to a bad dragon toy as of yet let's see if Stan breaks the mould.
So I was thinking what dildo to get it was really difficult to choose between bumble hooves and Stan I liked both designs but decided to review Stan as I believe I am the first to do a review on Stan. Stan is not a dragon themed dildo in fact it is actually a T-rex based dildo. Bad Dragon released the Stan during their Dragon island theme. They released a series of dildos and masturbators in time for a new dino move that was due to come out.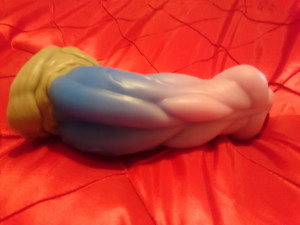 Now I went crazy for Trent The Triceratops which was the first to be released. I was a huge Dino fan as a child. Okay so I never really liked the T-Rex but Stan offers girth, girth and more girth! This dildo is all about the Girth! He also features a very muscular detailing through the shaft much like the one on my Bruce. And of course Stan has an amazing curve.
So I picked out my Model now I had to pick out a size, this was really hard for me I looked at the measurements and pictures on the product page and was puzzling for an hour. Before I thought well my Trent is a medium and I usually go for a medium and there isn't much between the large and medium. So I got my Stan in a Medium. The firmness I chose was a Medium, I thought with it being quite large I would need a little give but wanted it to be able to stand alone. However when I received my Stan I realised I should've had a split firmness because I chose to have a suction cup base and the base was squishy and hard to grip during use. This didn't affect the suction at all though. I chose my first ever fade and went with a split fade. The base is a singular colour that I chose a neutral brown/beige: 9C8861 Then the tip of the shaft is a pale pink colour: FF9EE5 which I chose due to it being infant and pregnancy loss awareness month, I then chose a deep blue for the bottom of the shaft: 4263BD The blue also fits in with the Pregnancy loss theme and my ribbon is also blue I have a thyroid condition so I though with the colours meaning something to me it would be nice you know.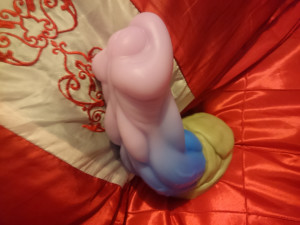 So my Stan arrived and I was just gob smacked it is huge! Literally bigger then my Trent Bigger than my Bruce it's a beast! I would say it is equivalent to an average Bad Dragon Large. I was very impressed with the colouration the colours blended to make a lovely pale purple colour. And the base is an amazing neutral tone I am very pleased with the way it came out.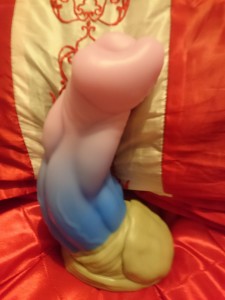 When it came to using Stan I had to have a huge amount of warm up like this is the biggest dildo I own, what did I expect right? It's a dino penis after all. So after various sizes of toys I used 5 altogether to warm up and with huge amounts of lube I braved myself and was ready to tame the Beast. I gradually inserted the tip then the two bulbs that flared out from it. Once the tip was in I felt extremely full and had to relax and take a while to adjust to the sensation. Then I was able to insert the rest. I did manage to take the majority of the Stan with just a half an inch between me and the base. I found the best way to thrust Stan was to wobble the base this meant I was still able to get the right stimulation without having to give huge thrusts.
Overall Rating
Appearance

Texture

Length

Girth
Summary
So is Stan worth getting? Well I love my girth but even I found Stan intimidating and would recommend you get a small if you usually get a medium basically go down a size from what you would normally get. I recommend Stan to those who want a big dildo that has Texture also to those that like the Chance I find that Stan is similar to my Chance just with a huge more amount of girth.
RRP: £116.85
You can find Stan The T-Rex at

Bad-Dragon.com