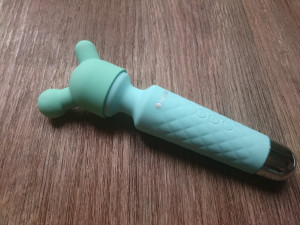 I was given the Deluxe LUMUNU Mini Wand and attachments in return for my honest review from the folks over at LUMUNU. I would like to thank them for letting me review for them and being able to bring my readers some reviews of their products.
The LUMUNU MINI Wand is made from silicone and is 100% waterproof. It has 8 Different vibration speeds and 10 different patterns. This wand is also rechargeable. The head of the Wand is flexible and can bend to accommodate your favoured angle. The LUMUNU Mini Wand is very powerful and even on the low setting feels extremely powerful. It says it is whisper quiet however it is one of the loudest wands I own nothing like as loud as the doxy but quite loud for a wand it's size.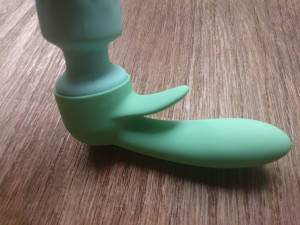 I was given the Lovely Baby Blue wand which is amazing and I love that LUMUNU have decided to choose colours that are not the usual bright pink and purple. They also have a lovely yellow one and the attachments are in a pastel green. So brownie points to LUMUNU for including amazing colours. The Blue wand comes with the nubby attachment "Lust Sensor" it has a mushroom like nub on one end and a plain nub on the other. The other attachment's I got where the G spot attachment this reminds me of squidwards nose with a curved end "Lust Spiked" and the Rabbit attachment a simple rabbit with a flat curved clitoral stimulator. "Lust Tongue". Now the good thing about the attachments is they are all made from body safe silicone.
Lust Sensor
I noticed how loud the wand was when the attachment was on. The Mushroom nub was great for board stimulation and I proffered the other thinner nub for pin point clitoral stimulation. This attachment also enables you to use the Mushroom to insert into your vagina. This for me felt great when I needed that extra little stimulation.
This attachment was easy enough to insert for me it is simple yet effective. The flared base of this attachment means it is safe for anal play. However it also makes for a great clit stim when the shaft is fully inserted the curve stimulates my g spot however when I need that extra clit stim to get me going the base has it all under control. It stimulates my clitoris enabling me to have multiple stimulation. The thin shaft is perfect for squirting g spot orgasms.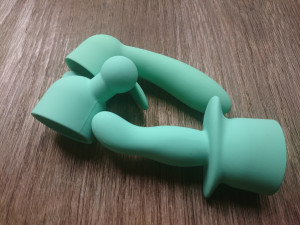 The lust tongue is a basic rabbit style attachment with the clitoral arm being flexible and able to fit most vulva's as it isn't the usual rabbit ear type. It also has a thicker shaft which gives added pleasure during orgasm ad my muscles clench around the shaft I feel its presence and my orgasms are pro longed. This is most favoured attachment out of the three and is the quickest to bring me to orgasm.
Overall Rating
Appearance

Vibrations

Grip

Sensor Head

Spiked Head

Tongue Head
Summary
The LUMUNU Mini Wand is a lot quieter when used without the attachments and feels great when used alone. The vibrations travel through the silicone attachment's very effectively and I recommend this wand to those who want power but don't want a mains powered Wand also those who what a waterproof vibrator that you can get attachments for instead of paying for each type of vibe individually.
RRP: £42.99
You can find The Deluxe LUMUNU Mini Wand at Amazon.co.uk