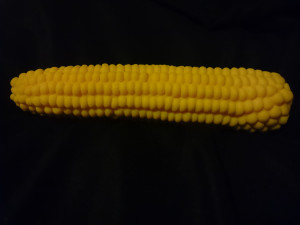 I received the Crazy CornCob from the lovely folks over at 1AToys. The sent me the product in return for my honest review. I received the corn Cob Free of charge this fact is not going to affect the outcome of my review.
So 1AToys are a company that I have only just stumbled upon. Which is a shame you all know I like my unusual dildos so I was overjoyed when I found a new dildo company where I could find crazy toys.
My Medium Crazy CornCob is in the standard Yellow colouration with a firmness of Soft this is maybe equivalent to a medium firmness from bad dragon so yeah its quite firm without being too firm.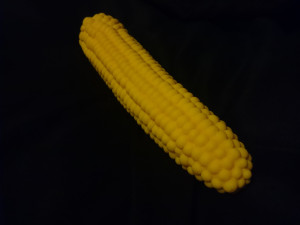 The Crazy CornCob is aesthetically similar to your average corn cob it has rows of corn all down the shaft but these cornels are also not completely straight and there is the odd cornel that sticks out of line. This adds to the realness of the Corn Cob. Before we used the dildo we cracked jokes about going to KFC to get a bucket with a side of CornCob it helped us adjust to having a vegetable shaped dildo in bed with us.
So my first impressions where positive but how did it preform? Well my first reaction was damn it's textured! I know it is a hugely textured dildo but this all becomes apparent when in use you can feel each little corn my vagina clenched around the dildo making thrusting quite difficult. I used plenty of lube and acquired Mr's help. He was much better at thrusting than I was I just let go and became accustomed to the texture and the shape of the dildo.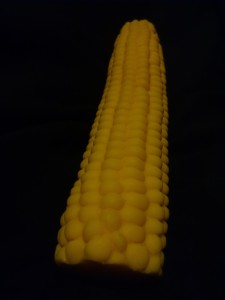 Before long I felt myself climbing up to my orgasm. Something was odd. I could put my finger on it. This dildo is not curved and it's not firm enough to provide g spot stimulation and not one I would've thought could bring me to a g spot orgasm at all but I just erupted and I still cannot believe that for my first time using this dildo it made me Squirt.
Overall Rating
Appearance

Texture

Girth

Length

Life Like
Summary
I was really shocked with how much I liked the corn Cob the really bumpy texture must have been rubbing my g spot up the right way because boy did I have fun using the CornCob. I really think this will be a dildo that I regularly go to it is simple yet surprising.
RRP: £35.28

Plus if you order Now you will get a FREE Cockring
Additionally if you spend over 50 Euros you will recieved a free Black Velevet Collar with a steel pearcing ring. It has a super cute little gem on it too! (while stocks last)
You can find The Crazy CornCob Medium at 1AToysShop.net