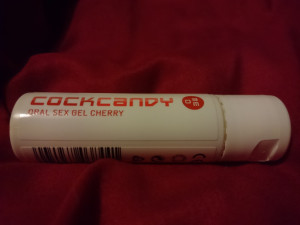 I was given the Cock Candy Cherry Flavoured Lubricant in return for my honest review by Meo.de. The fact I was given this product free of charge is not going to affect my review of it.
So Meo have a great range of Flavoured Lubricants called Cock Candy. The Cherry one is very yummy and it sort of tastes like cherry drops. Yes liquid Chery drops that's what it is. The Cock Candy Cherry is also coloured like all of the Cock Candy range Mr pointed out that when he said in shock as I poured it on him "it's coloured !" yes it is coloured personally I like the colour because I know it adds emphasis to what flavour it is. However this isn't essential and I have used many lube which are clear. It is sort of a novelty thing.
Ingredients:
Glycerin
Aqua
Hydroxypropyl Guar
Propylene Glycol
Panthenol
Soduim Sarcharin
Citric Acid
Aroma(flavour) CI14720
Benzyl Alcohol
Citral
Eugenol
Isoeugenol
Citroellol
Limonen/D-Limonene
Linalool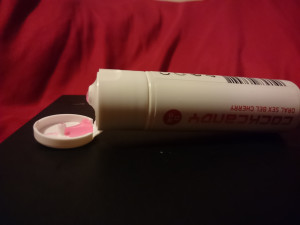 I quite enjoyed the Cherry Flavour of this Cock Candy and it comes in only one size which is a 30ml bottle that has a pop top lid. This is enough for around 8 uses depending on the amount you apply. Sadly if you require a larger amount you would have to buy the 30ml bottle x however much you need. This is something I would like Meo to do is to stock larger quantities of the Flavoured lubricants.
That said the size is idea for travel and fun on the go. You can also get every flavour of the Cock Candy range in a travel pack which is great if you want to sample all of the different flavours they offer.
Appearance

Flavour

Viscosity

Clean Up
Summary
I really recommend the Cherry Cock Candy if you like the taste of cherries also if you love cherry drops this is a must have.
RRP: £5.07
You can find Cock Candy Cherry at Meo.De