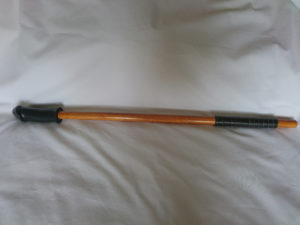 GODEMICHE are a UK based company that make body safe silicone sex toys. They are relatively new and have few designs however the price they offer the products at is amazingly cheap. So GODEMICHE already have the Amazing Adam dildo which is super girthy and beautifully shaped.
They decided to release a more unconventional toy. This toy is a wooden pole which is then crafted elegantly with a leather binding to create a handle. On the end of the pole is the Adam dildo. So GODEMICHE posted a tweet with a picture of the new product and asked for name recommendations. Now there where a lot of suggestions for this dildo on a stick so I decided to go for it and think of something clever. Immediately I thought the shape was reminiscent of a Lance a jousting rod that was used for attacking your opponent whilst charging at your opponent on horseback. Now I chose to suggest the word Lance for this reason however it is also a male name so it is in keeping with the male name theme.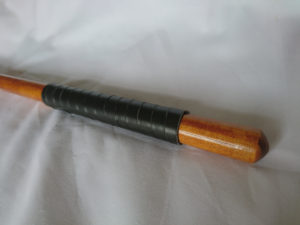 I didn't expect for the final name to be one I chose. I was really honoured. I was contacted by GODEMICHE to request my delivery address as they decided to give me a Lance for me choosing the name. I was a little shocked at first and thought it was extremely kind of them. However one thing dawned on me what on earth was I going to do with this pole with a dildo on? Where was I going to put it in storage? I mean I can't leave it out I could probably use it as a coat rack or to attack intruders. I was just thankful Mr was super excited to use the Lance, the Lance of course has to be operated by one person to control the dildo correctly so the receiver can get as much pleasure as possible. It would not be a toy I use by myself. I ahve tried this but the pole is quite heavy to hold and i feel like i look like some sort of drain unblocker plunging out my vagina. However i have just recieved the Adam dildo which is the dildo that is at the tip of the Lance and i am very pleased as i will be able to use this alone with ease.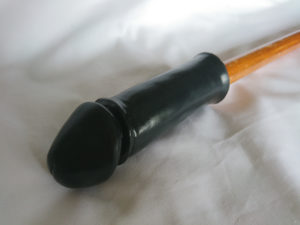 With Mr really hyped up to use the Lance, I became excited to receive it. In a sense it is like a man operated fuck machine, which I already own a fuck machine so I was quite open to the idea of the Lance. When it arrived at my door I was excited. It came in a spherical cardboard tube which can be re sealed with the lid at the top. I took out the Lance and was hit by the leather smell this for me is amazing and a turn on itself I love the smell of leather! So I took it out and had a good look at it the wooden pole is a dark sort of mahogany colour, I love my darks woods so was super pleased. The leather binding is a black leather that is super comfy and easy to grip. The Adam Dildo is a Black colour that matches the handle. All in all it looks lovely.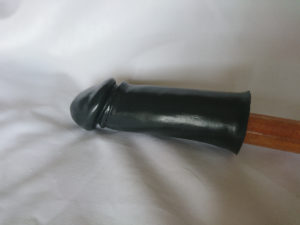 I finally had chance to use my Lance. Mr was really excited. I readied myself and had Mr lube up the Lance using quite a fair amount of lube. I figured we would need it due to all the friction. Mr made jokes of looking like he was playing snooker and mimicked a potting motion with the Lance. I was in fits of giggles at this point and told him off! After we were both ready I told Mr to insert the tip. This was extremely stretching and I felt really full. The tip is quite wide so after slowly placing the tip in the coronal ridge sort of popped as it followed. My face showed what I was feeling Mr asked if I was ok my reply was "yes, it's just a weird sensation the pop is so sudden, it feels good though". After the pop Mr inserted the shaft I was able to take all the safe very comfortably. With a length of 6 inches the dildo is considered on the high end of average, I am used to Mr's 7 inches so the dildo fit very comfortably.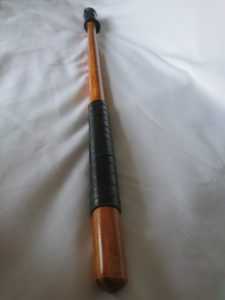 Mr used slow long thrusts to start with bringing the dildo out them back in the popping was fantastic. He then went fast and faster and I was enjoying every second. The fast motions where whipping me into a frenzy. The coronal ridge was really rubbing my G spot. The orgasms I had where amazing.
I had a lot of fun with the Lance and Mr agrees it is a simple yet astounding idea and although we do not have a dom/sum relationship it still works great. We tend to each like aspects of being dom/sum and take turns depending on mood and the task. However the Lance can work both ways I can let him take control and take me to a huge squirting orgasm with my surrender. Or I can direct him to use it how and which way I like.
Overall Rating
Appearance

Build Quality

Girth

Length

Ease Of Use
Summary
I am very proud of the Lance and the honour I got of choosing the name. I recommend that couples who want something different, not just a dildo or vibe to try out the Lance. I also think it is a great object for those who practice BDSM because the Lance can really be used in a versatile manor. Also for those who don't have someone to use the Lance on them but want a similar sensation should check out the Adam dildo this is the dildo without the pole and it offers the same stimulation.
RRP: £49.00