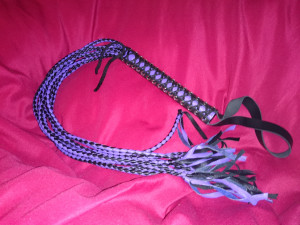 I was given the Hurt me Cat O' Nine Tails Ariadne free of charge in return for my honest review from the lovely people over at Meo.de I would like to thank them for being very generous to me and giving me a selection of products to review for them.
The thing I like most about the Hurt me cat O' Nine Tails Ariadne is that is has a lovely purple and black detailing. It is made from leather which the smell of leather is just incredible so I like leather things. Each plaited strand has a little set of streamers at the end. This sort of adds to the bite of the impact. My most favourite part of the Ariadne is the corset type detailing on the handle it is amazing and very sexy. The handle also features a loop to hang the Cat O' nine Tails up when in storage. The one thing I really noticed was the length this Cat o Nine Tails is very long the strands of leather are so, long and thick it really is stunning.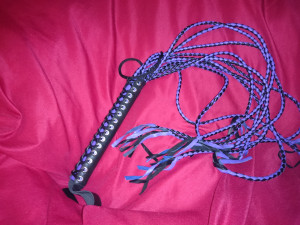 Of course I couldn't wait to try this out. Mr gave a lash this was really stingy and almost unbearable. When he chose to use it on my ass and legs that's when this Cat o Nine Tails really stood out to me the sharp stings of the streamers fluttered across my skin. He also dragged the Cat O Nine Tails across my back which felt really tickly. Mr found it really hard to make low impact with the Ariadne even little flicks where quite stingy and for a beginner could be too much to take. However I enjoyed the time we spent using this and I can definitely say it is going to be a firm favourite for a while.
While I did enjoy the impact of the Ariadne Cat O Nine tails I wouldn't recommend beginners or those looking to spice things up to use this item They Should choose something softer like this. For advanced users though this is the stuff of dreams the colours are amazing it looks incredible and feels fantastic.
Overall Rating
Summary
The Hurt me Cat O nine Tails is one for advanced users and adds a little dimension into your bondage session the streamers add a more spread out sharper sting to the impact.
RRP: £64.67
You can find The Hurt Me Cat o' Nine Tails Ariadne at Meo.De