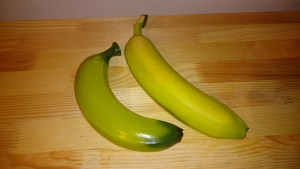 I received the Curved Banana in return for my honest review by the amazing Self Delve. The fact I got the curved banana free of charge is not going to affect my review. Who are Self Delve? They are a German company who specialize in making unique dildos that often have a colour changing pigment in the! Cool right?
Anyway as you all know I am a little bit of a strange and unusual dildo collector of sorts, I have varied dildos ranging from zombie dildos to dragon dildos. Well Self Delve are something else! They are very positive about self-pleasure and make a wide range of fruit and veg shaped toys in there Garden of Eden range. All of these dildos are often quite symmetrical to the actual object however they are made from 100% body safe silicone. No D.I.Y dildos here!
Self Delve also make some very lovely looking none food based dildos. Like the Adam and Eve which I will be reviewing soon! They even have a Snowman themed dildo! Self Delve also make dildos to order by custom requests, see s dildo you like but want a different colour, they will make it for you. Along with this they also sell, Masturbator sleeves, penis shaped dildos, Kegel balls and ball gags.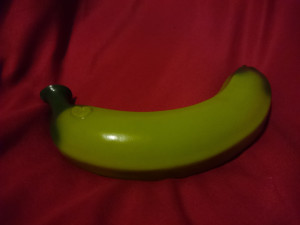 The curved Banana is basically a banana which is of average size with a curve to it. The size and shape of the banana is based off the average size of a standard commercial Banana. The end has those brown bobbly bits on just like a regular banana except they are more rounded. The tip of the Banana has a Stem which is flattened at the tip this is great to use as a handle whilst thrusting. The shaft features an almost hexagonal shape typical of a banana the angles are amazing. It looks like the real thing!
The colouring is great it is a lovely Pale green colour with highlighted darker green shading towards the end and the tip of the shaft. The end of the shaft which features the brown stubbles is a very realistic brownish black tone as is the flattened stem of the banana. Thia all changes when the Banana hits a hot temperature all of the green turns bright yellow this is best done when using the dildo rather than a hot tap as the dildo needs to be constantly surrounded by the heat top see the best change results.
Getting my 5 a Day was made a lot easier when i decided to use the Curved banana. I was able to insert the shaft into me quite easily the brown nubby bit didn't cause any annoying sensation like I thought it would. It was easy to use the curved banana the natural shape meant it bent in line with my vaginal walls and rubbed against my g spot. I was extremely comfortable using the Banana. Mr actually pointed out to me that while I was masturbating I was wearing my Minions Top this did not happen on purpose and was super ironic.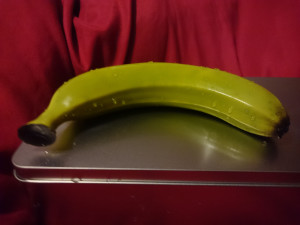 After using the Banana I took it out and it was Bright yellow my vagina had turned a Banana from a very unripe green to a ready to eat yellow colour you could see the colouration line when I had used the shaft up to the rest of the Banana was still the un ripe Green. It's such a novelty I love the fact that I have a dildo that changes colours, maybe I am just a big kid or maybe it's just amazing fun to change something colour. All I know is I love the curved banana.
Overall Rating
Summary
I really recommend the Curved Banana to those who want a novelty themed dildo. It is also great for beginners who don't wand a phallus shaped dildo, i also recommend it to those who have an inner spirit monkey maybe… or those who are fitness fans, maybe you know a fitness fanatic this would be a really funny gift to give that person. Or just buy it because you want a Banana dildo, it can be quite easily mistaken for the real thing it looks so real! So don't leave it on display in the fruit bowl with your other Bananas as might get a pleasant surprise when you go to peel it.
RRP: £54.17
You can find The Curved Banana at SelfDelve