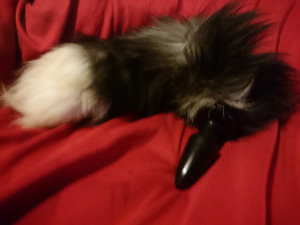 I received the Fox Tail Butt Plug in return for my honest review from Uber Kinky. The fact I received this product free of charge is not going to affect the outcome of this review. UberKinky sell alot of Tail Butt Plugs Which seem to be all the range at the moment, i have seen them increase in popularity the past few months.
I have been after a tail plug for a while now, so I jumped at the chance to review the Fox Tail Butt Plug. It is made from a lovely soft fur like material it is not real fur which is amazing! However it is very life like.
The Fox Tail Butt Plug is also removable from the butt plug. You simply just pinch the tail near the base and pull the little plug from the base of the plug. This makes cleaning your Plug more easer as you won't have the tail in the way to get in the water etc.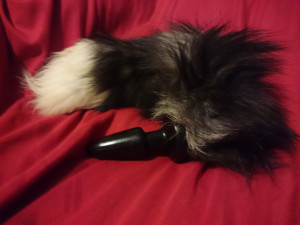 The plug I consider a large and it would not be suitable for beginners. I was expecting it to be a little smaller. On the other hand the base of the plug is very large which I have no complaints about this is what I look for in plugs. The larger base gives me a piece of mind that it is safe to use and won't pull a disappearing act.
I found the plug easy to insert. With a lot of lube and patience it was quite easy to use. At times I had to pause and get myself accustomed to the size. Once it was in, it was there to stay and didn't budge. I kind liked the fact I had a tail and I felt super cute. I even waggled so that the tail was able to sway. It is just a fun plug to use.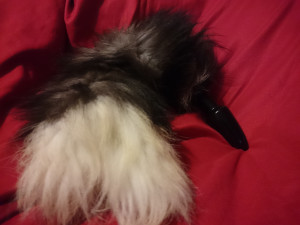 Even when Mr had sex with me the Butt Plug stayed put it didn't move or even pop out with the pressure. The Fox Tail Butt Plug was comfortable to use whilst having sex. I just looped the tail to the side of me so I wasn't lying on it.
Overall Rating
Appearance

Comfort

Size Of Plug
Summary
I really like the Fox Tail Butt Plug and I think there are a good few out there that will too. So I recommend the Fox Tail Butt plug to anyone wanting a large butt Plug, anyone who wants a tail butt plug, anyone who wants a removable tail butt plug, and those that want a faux fur plug.
RRP: £29.99
You can find the Fox Tail Butt Plug at UberKinky