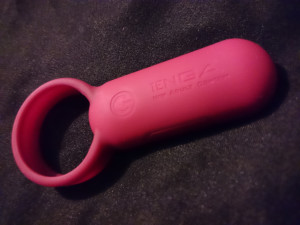 I was given the Tenga SVR by Tenga free of charge in return for my honest review. The fact i received this product free of charge is not going to affect the outcome of this review. I agreed to review Tenga's first cocking i have to say i was quite excited about this product. I am not a fan of cock rings in general they tend to be too weak and the on/off stimulations really irritates me. I was a little sceptical about how it was going to preform and if it was going to make me orgasm.
Okay so a few things that made me want this cock ring are that it honestly looks like a Dr Dre beats Pill speaker. The colours are also reminiscent of this aspect to. I had wanted one but sadly never got one however i did receive the Tenga SVR now this is a lovely cock ring that doesn't have bobbly sticky out bits, No weird fastenings and not a rabbit ear in sight. The Tenga SVR is modern and sleek and i really like the way it looks. the ring is sort of hollowed out but super stretchy so will accommodate most sizes. Mr didn't have an issue wearing it. It has a charge port on the side so that you can charge it up. YES a rechargeable cock ring no more watch batteries! Seriously though. You just charge it up for an hour and that will give you an hour play time. The Tenga SVR is also waterproof up to 50cm.
T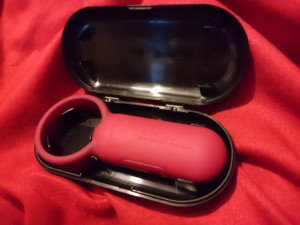 he Tenga SVR comes in three colours Black, Pearl White and Carmine. I was able to choose which colour i wanted i went for the Carmine the deep red i thought looked stunning. The Tenga SVR is made from ABS and Silicone so it is not porous and totally body safe. You get 7 vibration settings with this cock ring. 5 Speed settings ! which is great you don't have the usual slow, med, high settings you  get to choose in between as well. you also get 2 pulsation modes, Which i don't really care for however some of you may like pulses. You control these by holding the power button in for 3 seconds to turn on and then pressing to cycle through the settings. You then hold the button for 3 seconds to turn it back off. What more could you want form a cock ring?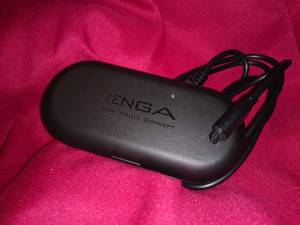 I most of all liked the design of the Tenga SVR it is really designed for multiple body typed the flattered spherical shape means it can give firm stimulation to the clitoris. the shaft also is long enough to reach most clitoris' You can also turn the shaft around to stimulate your perineum.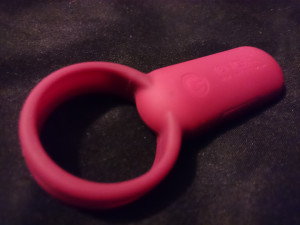 My experience with the Tenga SVR was a very intimate one. The vibrations where perfect and a lot similar to my Yuki. They travelled very easily through the silicone. the clit stim reached perfectly and was correctly aligned with my labia and clit. I did feel myself building when Mr thrust but i found that slow and shallow thrusts worked best as i got continuous stimulation from the SVR This also gave use time to connect. The slow thrust meant we could look directly at each other. The Vibrations made me orgasm which i was expecting considering they are similar to my Yuki. This is the first cock ring to give me a clitoral orgasm an it was one of the strongest i have had. I didn't have to lift a finger to achieve it.
Overall rating
Appearance

Clitoral Arm

Flexibility

Vibrations

Orgasm
Summary
I am very excited abut the Tenga SVR i really lie how it is gender neutral and it is multi purpose. The main thing is it works. Whether you want to use it alone or with a partner it is fantastic. I think we are both shocked at how good the Tenga SVR is we had been let down by a lot of lower market cock rings even pricey ones however this is the ONLY cock ring you will ever need.I recommend anyone looking for a cock ring to get the Tenga SVR it is by far the best we have tried and it took a lot of time and effort to finally get a Cock ring that has everything we need.
RRP: £59.99
You can also take part in the Tenga Better Sex Survey for a chance to WIN an SVR