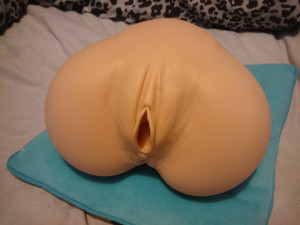 We were given a soloflesh for an honest review and i am going to be honest from the start, this is an amazing sex toy. This is a toy that grabs realism and chokes it with pleasure, i mean this my all time favorite sex toy and i can't really compare anything else with it really. This has got to be the closest thing to sex out of all the sex toys that i own, In my point of view i just believe you should just drop what your doing and go buy one.
Hey It's kim just popping in to put my perspective in Mr's review…  Well the Soloflesh V2 is amazing it is super realistic to look at whne filled with water the "walls" of the toy push out near the vagina entrance. Much like my own. The labia is stunning and very realistic, I acually fingered this masturbator to see if it was really as "real" as it claimed to be. The inner texture is remarkably realistic i can feel those grooves and odd textures like a vagina. The textures are actually modled from an actual vaginal canal. I have no idea how they did this but it is the best mastuirbator in terms of it feels exactly like a vagina. And the warmth of the water inside made t feel even more realistic along with teh fac you can feel the weight almost pushing back on you. I have to say this masturbator has a great set of buns litterally i have soem competition. I really enjoyed watchiong Mr use teh SoloFlesh V2 it was super realistic and amazingly sexy it got me all turned on just watching him. I'll now let you read teh rest of Mr's review…
Moving onto more important matters, the way this works is that it can be blown up with air or can be filled with warm water, when i say warm i mean warm. You have to be very careful and make  s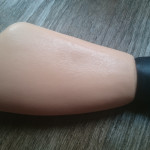 ure that you hold it correctly and also make sure not to overfill, and this is the most difficult task of the lot so far. When you first receive a soloflesh it should look like a "Chicken Leg" which doesn't seem very eye appealing but once you get this thing pumped it can look amazing.
When your using this for the first time make sure to remember everything in the instructions off by heart because this needs a lot of care and attention to set up and use, this is due that you might pop or burst it. This is the only downfall of this product but you really can't blame the manufacturer for this as it's yours to look after and care for as if it was a real woman. The solofelsh comes with a velcro belt to stop any leaks or air getting into it, there are two openings. The one hole is where you can adjust the tightness and there is an outer circle which is where you will fill the product with air or water.
I got my first chance to use the soloflesh with warm water, but it was more like hot water than "warm" water as this kind of burned me every now and then when in use. The feature of using water in this product is mind blowing, but it's a big hassle but you have to put up with it to get a good experience. I have to say that the texture is very realistic and feels amazing when in use and with the "warm" water it was an even better experience as it felt more like the real thing. I hope when they decide to make another, they create a pussy and  ass which have realistic textures because it's nice to get a feel of the both.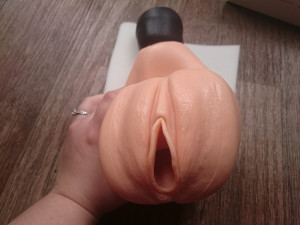 Overall i give this product a good top marks due to it's incredible and pleasurable textures and also comfort but "burning" feel to it, next time I'm going to be a little more careful on the temperature of the water that im going to be putting in next time. This is one of my all time favorite sex toys and i would love to see if there is any competition that can live up the expectations of the Soloflesh!
Overall Rating
Pleasure

Cleanliness

Texture

Realism
Summary
The SoloFlesh is definately top on my market, the texture is amazing and i can't fault it really. It's an amazing toy and feels great to have sex with, if it has the unfortunate pop or wear and tear then i will be defiantly buying another one.
RRP: £52.16
You can find the Soloflesh V2 at Soloflesh.com