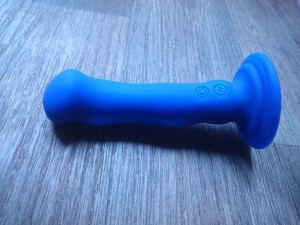 I received the Blush novelties Nude Impressions 01 vibrating dildo in return for my honest review by the lovely people at Blush Novelties. I am very grateful to blush novelties for letting me review some of their products.
The Nude Impressions 01 has 5 vibrations speeds, 5 vibrating rhythms. It is also 100% waterproof and rechargeable. It is also made from 100% silicone and has a suction cup this also makes it harness compatible.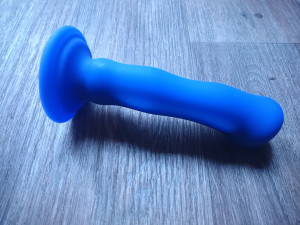 I really like the abstract look of the Nude impressions range each vibrator is uniquely shaped and they come in all sorts of vibrant colours. I opted for the 01 due to the unusual shape. It is semi realistic you may think it doesn't resemble a penis at all but the bulbous tip is reminiscent of a bellend. The shaft also features a flattened type of ridge or line detailing to each side of the shaft. The Nude Impressions 01 also has a great curve.
I have to admit I was sceptical of this vibe I didn't think it would serve a purpose as a g spotting vibe but while I was thrusting away it became apparent that the tip was stimulating my g spot it pulled on the back of my g spot making me feel full and wanting to come. I coupled the Nude Impressions 01 with my Svakom mini Emma on my clit and I was able to have not one but two squirting clitoral orgasms.
The tip of the Nude Impressions 01 was bulbous and gave me a great stretching feeling when I first inserted it this also felt great during my orgasms as I was able to feel the girth of the shaft as I experienced the contractions of my orgasm. There is a slight curve to the shaft which isn't very noticeable at first but once it is inside me I am aware of the curve a lot more. That curve tilts toward my g spot which adds to the build-up of my squirting orgasm.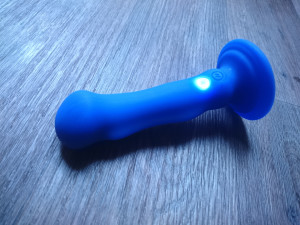 I enjoyed the design and feel of this vibe but I also like the way it surprised me I didn't expect to experience a g spot orgasm with the Nude Impressions 01 but I did and I am highly thankful to this vibe for giving me such amazing orgasms. The vibrations surprised me and even on the second speed it was quite powerful.
Overall rating
Appearance

Vibrations

Texture

Orgasm
Summary
The Nude Impressions 01 is not only a very artistically well sculpted vibrator but it also has great purpose and brings me to a fantastic climax. I highly recommend the Nude Impressions 01 to everyone yes everyone whatever your age or sex this is a great vibrator and the colour and design makes it gender inclusive.
RRP: £N/A
You can find the Nude Impressions 01 at BlushNovelties.com