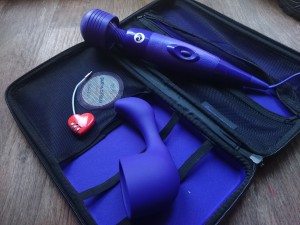 I won the Love Honey Deluxe Magic Wand gift set in a giveaway hosted by CarnalQueen. She is lovely and you should go and check out her blog Huge thanks to Carnal Queen for sending me my prize. This is a limited edition gift set that is no longer available from Lovehoney however you can still purchase the love honey wand separate.  You can also get the Deluxe Magic Wand couples set which has a different g spot attachment, a male sleeve attachment and comes with the white Lovehoney wand.
In this Gift set you get a Lovehoney Deluxe Magic Wand in a purple colour. You also get one silicone g spot dildo attachment which reminds me of gonzo's nose out of the Muppets. A safety lock to ensure your contents are safe this is a red love heart shape. And a black hard cased storage case to keep it all in the box is lined with purple lining and is able to zip up shut both sides. The top of the box displays the Lovehoney heart symbol this can also be seen on the zips. Around this case is a purple sleeve with Lovehoney symbols on and Deluxe Magic Wand written on it this can be removed for discreet storage.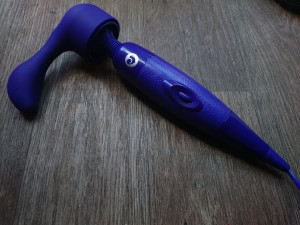 The wand itself is really stunning I love the purple colour it isn't too in your face either it borderlines navy blue and purple. The cord is also this colour which to me adds to the design of the product matching power cords are a novelty for me. To operate your Lovehoney Deluxe Magic Wand you plug it in and push the down you will hear a click this means it is on. To increase intensity scroll down to degrease intensity scroll up to turn it of scroll up until it clicks. Easy as pie! Unlike the Doxy which starts on ¾ speed this one gives you the option to get your clit adjusted to the feeling and starts off low. I really like not having the hassle of it come to life really powerfully and having to turn it all the way down before I start using it. I proffer the Lovehoney Deluxe Magic Wand for this reason.
When I used the Lovehoney Deluxe Magic Wand I was able to place it straight against me. I attached the dildo attachment to the wand and I lubed it up I figure I would need a lot of lube as I knew it was going to be an intense session. The shaft was easily inserted and the bulging curve pushed past my g spot to rest at the back of it. I started on a low setting and worked my way up. I rocked the wand needing the shaft to rock against my g spot. The rest of the head of the wand acted like a dual stimulator when I had the shaft completely inside me I was able to rest the rest of the head against my clit this and the rocking motion lead me to orgasm. Mr watched on as I vigorously rocked my hips and the wand to orgasm I needed to come and the Lovehoney Deluxe Wand did just that it made me come. Mr watched on like a kid in a candy store he lay on his stomach between my legs and this sight made me want to continue using the wand. Every time I increase the power of the wand I was shocked at how strong the vibrations where. I also used the back of the attachment to have a few clitoral orgasms i rubbed the silicone across my clit which felt a lot better than just the head of the wand.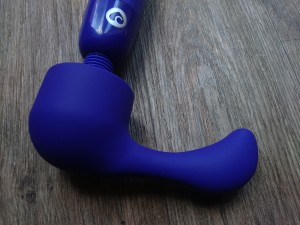 In comparison to the doxy i would say they both have a similar maximum power however the LoveHoney wand wins extra brownie points because it starts off on a low setting. The scroll button I like a lot more then buttons as you can find a speed that suits you which may be in between pre-set speeds. The rounder head on the Lovehoney wand means it gives more of a surface area for those who like spread out vibrations. The doxy Wand is somewhat heavier and the head is less flexible then the Lovehoney wand making it sturdier when you are playing a little rough.
Overall Rating
Appearance

Vibrations

Attachment

Orgasm
Summary
For the price I really can't complain this wand is a lot cheaper than most high end ones and it is just as good. I highly recommend if your planning on getting wand vibrator and don't have a big budget you can't get any better than this for value.
RRP:
£35 Wand
£24.99 Attachment
£80 Couples Set
You can find the Lovehoney wand here
You can also buy the G spot dildo attachment I got in my set here (but it's pink)
You can find the Deluxe Wand Couples Kit at Lovehoney.co.uk