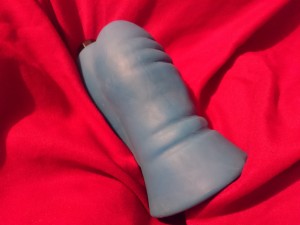 The OptiMALE vibrating stroker was given to us for a review from DocJohnson, the OptiMALE has three colours (Black, Blue and White) and each one varies on texture. The blue comes with the thick ribs, the black comes with a chain links texture and the white comes with Massage Beads These masturbators come with their own bullet, which is a great addition as you can just take it out and use it on your partner if your feeling for it.
Masturbators or Strokers have been on the market for such a long time that they have been the main sex toy for men, now that we have small packed bullets, we as men can now enjoy the same vibration and pleasure as the women while thrusting ourselves into deep holes. The OptiMALE that i received was the thick ribs and this texture is pretty much what it say's on the tin as it gives you a very large thick ribbed feel, and before i go on you might not think that you'll like this certain texture due to it being "plain" but it's not. The thick ribs are good enough for me and the vibrations are ok but they are limited, you get a three speed bullet with this stroker the speeds of which consist of  slow medium and fast. The Bullet's vibrations can barely be felt through the material of the stroker. The vibrations do not travel as good as i'd hoped through the material. This puts a bit of a dampener on the whole vibration, but it's still a good product for a first time masturbator don't get me wrong on that.
T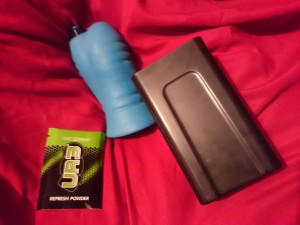 he OptiMALE was a treat to insert yourself into as the texture is quite thick and provides a good feeling from the tip of your bell-end down to the shaft. Even though this product only provides three variations of speed which you can't really feel, it definitely still gives the pleasure that you are looking for. Considering that the vibrations give that lacking feel, the texture pretty much makes up for it.
DocJohnson are a good company for your first sex toy and especially this one, it comes with it's own discreet container which is fantastic for people who need somewhere to stash their stroker away. Some companies don't make masturbators cases as discreet as others, but this comes with a plain black tin which does the job pretty well. If you had to go out and buy your first sex toy right now i would definitely suggest getting a OptiMALE because it gives you some good stimulation and the vibrations are ok but they could be worked on. On the other hand it's a great product and docjohnson never fail at making some amazing discreet products.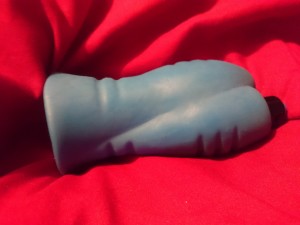 A little message for people who live in the EU, it has come to my knowledge that its very hard to find the OptiMALE range online. I have seen them on amazon in the US but not in the UK, so unfortunately it can take some time to find one of these. If i ever find someone who sells them i will add them to the purchase list at the bottom of the review. But for now the best place to buy it from is direct form Docjohnson Themselves.
Overall Rating
Vibrations

Texture

Pleasure

Cleaning Process
Summary
The OptiMALE Blue (Thick Ribs) give's off a good vibe even though you can't feel it all the way around your cock, it's a good product don't get me wrong but i was a little disappointed at some point. If you're looking to get your first masturbator i would definitely start with one of these.
RRP: £21.39
You can find the OptiMALE Vibrating Stroker (Thick Ribs) at DocJohnson.com