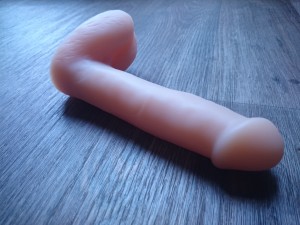 I received the Dayo dildo from Blush Novelties in return for my honest review. The Dayo is part of the Blush Novelties Nude range. Blush Novelties have just released a series of dildos in the Nude range that include balls.
The Dayo is made from dual density material. It has a firm inner core which is coated in very soft silicone. This silicone can be squished and the tip of the penis can be squashed very easily and doesn't have a hard core like the shaft of the Dayo. The balls are also very pliable and if squashed enough you can tell there is a firm material underneath. This gives them an extremely lifelike feel. The Dayo is part of the Real Nude range and comes with a  lovely suede storage bag.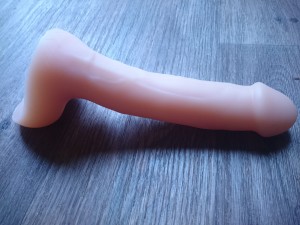 The Dayo is easy to insert it isn't that girthy and I would compare the girth to Mr's but a little less girthy the length is quite large about 7 inches which is very satisfying. When I first inserted the Dayo I noticed how real it felt it feels almost flesh like with the soft silicone yet firm like an erection would feel. As I thrust the dildo I felt the balls hit my ass this felt lifelike too and I really liked the way they moved it would be as if it when a set of balls moving. When Mr Thrusts it's somewhat similar to the motion I got from Using the Dayo.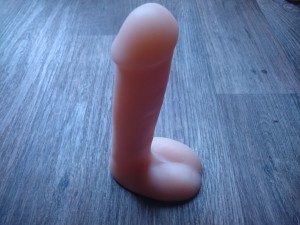 I previously reviewed the Sumo and this was amazing I definitely like the dual density range from Blush Novelties and although the Dayo is somewhat more realistic looking I still think they are a minimal range looks wise which is perfect for people who don't want anything too realistic. But this is echoed with the feel of the Dayo it feels incredibly lifelike although it is semi realistic looking. And the balls are the best set of balls I have come across on a dildo! I don't normally care for dildo balls the only purpose being they work as a great handle but with the Dayo the balls complete the experience. Even Mr commented on how realistic they are with how they feel and the way they move when thrusting.
Overall Rating
Appearance

Firmness

Realness

Length

Girth
Summary
I recommend the Dayo to those who want an extremely life like feel the Dayo is as close as I have got to the real thing and both in use and in my hand feel incredibly real. The length is amazing and one for those that love length I enjoyed using the Dayo for this reason. The Dayo is one of THE best realistic dildos I have used!
RRP: £N/A