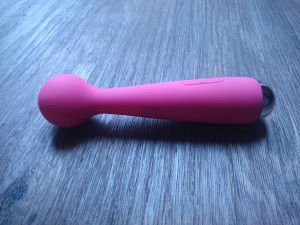 The Svakom Mini Emma was given to me in return for my honest review by the lovely folks at Svakom. They make a wide range of luxury vibrators some have heating functions some are eco-friendly and they are the makers of the one and only Dildo Selfie stick! Well it's a Vibrator that can record the inside of your vagina I have been dying to try one out.
The Svakom Mini Emma is a smaller version of the Emma wand except it doesn't have the heat function. It said to be a super shock Vibrator meaning it is super powerful. The head is flexible and it is 100% water proof. Of course it is also rechargeable and has 5 vibrations modes ( steady, pattern, pulse etc) and 5 speed variations, Low, low-med, Medium, high, very high, super shock  I am quite shocked at the power in this little wand! The Mini Emma also is made from body safe silicone and has a use time of 2 hours.
I really enjoy the feel of Emma the option to have quick orgasms is amazing. I chose to use Emma during Oral with Mr I used it on my clit and was shocked at the lowest speed. I only increased it to the lo-medium speed and I had orgasmed in about 3 minutes. The power of the Emma had my orgasm intensity increasing and the orgasms I had using Emma where extremely satisfying. I continued using Mini Emma for a second orgasm and this time it came a lot quicker I didn't have to build up I just orgasmed and it was super strong. I decided to take it up a notch and got for the high speed and another orgasm came around it was pro longed buy the powerful vibrations and when I finally released I was well and truly exhausted.
Th price of this wand is great this means that it caters for the lower priced market also. At a fraction of the price of most wand vibrators you are getting alot of value for money here. You still get that same power needed when buying a wand vibrator yet at a fraction of the cost and a much more stylish petite design.For me the Mini Emma ticks all the right boxes and i honestly can say this is one sex toy i wouldn't mind parting with my money for. I would happily go and spend twice the price of the Mini Emma for the quality and value the Mini Emma offers.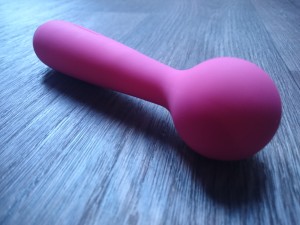 I am very pleased with the Super Shock power of the Mini Emma and I am very delighted that I can have super quick orgasms as and when I need them. This little wand packs a lot of punch and is better than the LUMUNU deluxe and most other mini wand vibrators I have used. The vibrations are buzzy and exactly what I need. The high speed vibrations are enough to please most and I really can not recommend this little wand enough!
Overall Rating
appearance

length

weight

power
Summary
Overall i am very pleased with the Mini Emma, the sheer power that is packed into this little wand is amazing. I highly recommend the Mini Emma to those who want or need alot of power to orgasm yet don't like the idea or heaviness of the normal sizes wand vibrators.
RRP: £39.23
You can find The Mini Emma Wand at Svakom.net