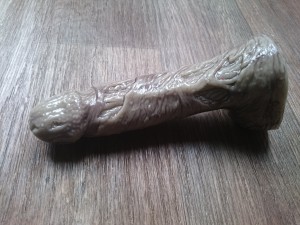 I received the Zombie in return for my honest review from Fleshlight. They have an amazing range of product and as you know we have reviewed some of the other Freaks in the range already. So I owe a huge thank you to Fleshlight for sending us the Freaks Zombie to review for them.
The Fleshlight Freaks Zombie dildo is a lot more flexible and made from a much more pliable silicone then the Alien, Drac and Cyborg. The Drac and alien being Firm and the Cyborg being between firm and medium makes the Zombie a Medium firmness.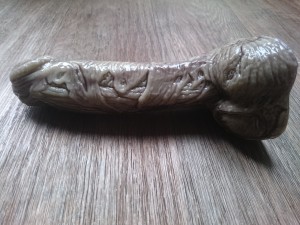 The details on this dildo are incredible as always the Freaks Offer a lot in terms of texture and the Zombie isn't a slacker. The Zombie dildo is full of texture the torn flesh creates bumps and ridges and nooks which in turn give you amazing texture. It has an insertable length of 7inches which still lays on the fact it is a semi human type penis. It is made from silicone and can be bleached boiled and sterilized. The colour is an off green like grey with tones of very dark purply red. I think the colour is great and instead of being bright like the other freaks its kind off dulled down to create a dead sort of vibe.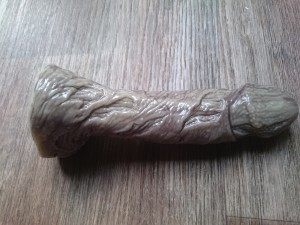 You can see there is rips in the skin and hole torn through the flesh even the head of the dildo has tears down the tip and underside this dildo truly is reminiscence of the living dead. There is a huge tear in the balls revealing a rounder shape of the testicle inside the flesh and the ridge that runs down the underneath of the shaft is very prominent with strips of flesh covering the exposed tissue. There are also little veins and pustule blisters upon close inspection. There is also remains of what looks like a pulled back foreskin which has rotten to become missing the attachment to the Glans. The Zombie is every zombie lover's dream nightmare come true!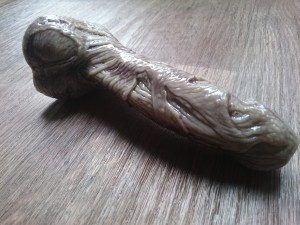 The texture on the Zombie dildo is incredible when thrust too fast you can feel it brushing you inside between pleasure and pain its divine I proffer to thrust slowly pro longing my orgasms I feel each bit of texture and the detailing on the dildo becomes very apparent during use. The tip is quite large much like the drac's this means even when the tip is inserted I feel instant stretching. The girth of this dildo is perfect for me that accompanied by the length means it reaches just next to my cervix sending pleasurable pain through me with each thrust. The zombie reaches deep within me which is amazing and I love the fact it reaches places I don't normally stimulate with my regular dildos.