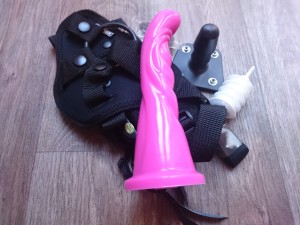 The Beauty with harness set was given to me in my review package from Doc Johnson, They gave me the set free of charge in return for my honest review. When I chose the Beauty dildo I wanted something Vac u Lock compatible to go on my Fuck machine. Not only did we receive the dildo but we received the dildo and harness set which is very generous of Doc Johnson!
In The Beauty Supreme Harness set you will get, one platinum silicone Beauty dildo, one black Supreme Harness, One black Vac-U-Lock Plug, and Two O shaped Rings, Vac-U-lock Powder, and instructions.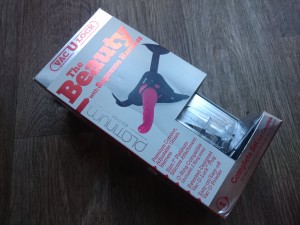 The Beauty Dildo offers both texture and girth the girth is graduated and you can work up from a small amount of girth to quite a lot when you use this dildo fully. The Beauty is in a lovely pink colour and is made from 100% platinum cure silicone. The Beauty is 7 inches in length which is big and may not be for the faint hearted but depending on the position this dildo is used in you may not be able to take all of the dildo fully. The Beauty features a circled wave of 3 loops which are placed one quarter to 3 quarters in along the shaft this created a large amount of texture which should start at the place which is most likely to stimulate your g spot.
The harness of this set comes in a black colour and is made from Neoprene. The harness is adjustable up to 69 inches. It has 4 press studs which can be attached to the vac u lock plug so you can use a vac u lock dildo with it. This harness also comes with 2 O shaped rings so If you have a favourite dildo you want to use with this harness that is O ring compatible you can do. It is worth noting that all Vac-U-Lock products are interchangeable so if you brought this set but wanted to use The Ribbed g dildo with it you wouldn't need to buy another harness it would pop straight on the Supreme Harness.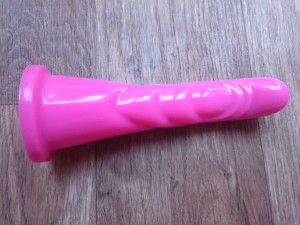 The dildo itself feels amazing it has the texture which I could feel during use. The curve made me have g spot orgasm which is always a good thing. All this whilst I thrust I found the base of the shaft would stretch me just enough so I had all these sensations going on at once and for one dildo that is great! It also has a hole to be vac u lock compatible so if I wanted to mount this on my fuck machine I could. The vac u lock hole made a good handle for thrusting I looped one finger in and it helped me thrust the dildo.
The harness is padded and sturdy and has adjustable straps that fit around my wide birthing hips so I am sure they will fit the majority of people. It is super comfy to wear and easy to control when thrusting the dildo clips on the vac u lock adapter which has press studs that attach to the harness. There is also an O ring which is silicone for added security.
Overall Rating
Appearance

Build Quality

Length

Width

Orgasm
Summary
The Beauty dildo is great just by itself but for those interested in doing a little pegging I really recommend you get this set it has everything you need in there and would be great for beginners and it is also super comfy.
RRP: £63.74
You can find The Beauty With Supreme Harness at DocJohnson.com