My Eroscillator came just in time for Sexhibition we were getting ready to leave when we heard the doorbell ring and my Eroscillator was here! I quickly plugged it in to check if it worked and stuffed it into my bag to take with us on our sexy weekend.
The first time I tried the Eroscillator I was super excited because I have always used a side to side motion when manually stimulating my clit so the fact the Eroscillator does this of me is like a whole new world for sex toys and my clit.
Marshmallow tip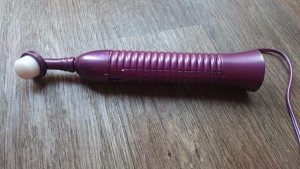 The Marshmallow is a soft plump air filled piece of squishy silicone which can me likened to the squish of the Yuki except squishier.
Mr turned on the Eroscillator and I readied myself he placed it on my clit the soft plump marshmallow tip was cushioning my clit that was being vigorously stimulated by the movement the oscillation of this product is so fast that it makes it vibrate it is amazing!!! From the moment it was placed on my clit the Eroscillator was giving me orgasms continuously. I grabbed the handle and took control turning up the setting to 2 then 3 getting more and more powerful orgasms. Then I asked Mr to fuck me and boom!! I was overjoyed with stimulation. Mr thrust into me spurting himself inside me as I continued to orgasm through my climax to an explosive eruption of an orgasm that left me writhing and exhausted.
Night two of our Sexhibition weekender I used the Eroscillator to tease Mr's cock placing it on his bell end and coaxing his ever growing erection I saw his face change completely the Eroscillator bringing him to the edge when he told me he was about to come I said no not yet fuck me and he did just that. I had the Eroscillator at the base of his shaft so that I could still continue to stimulate him to climax using it. After only a few thrusts and the Eroscillator on 3 he climaxed and very much so enjoyed it.
Golden spoon tip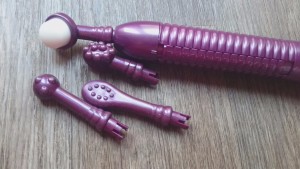 I just call this one the spoon it is a dipped spoon shape and near the edge of the spoon is a little bump it looks like if you had a tiny pea on the end of your spoon. On the back it has a series of bumps in an oval shape for my review I shall call it the Bumpy Back.
Spoon
The spoon was able to fit snugly over my cli and my clitoral hood. It was totally encased in the spoon and the "pea" pressed the underside of my clitoris where it meets my labia this was an amazing feeling and one I haven't had from any vibrator. I have to say this tip is really unique! This attachment did take me a while to orgasm from and I had to build up slowly but damn was it worth it.
Bumpy Back
The Bumpy Back of the spoon was what my clit craved though the flat surface the spread out vibrations across the bump surface was what it wanted and needed so of course I can't say no can i? The bumps made me want to rub the Eroscillator up and down across my clitoris whilst using it which is unlikely for me I proffer side to side stimulation rather then up and down but with the side to side from the Eroscillator and the rubbing up and down the bumps ran across my clit and I was able to orgasm a lot quicker than using the marshmallow or the spoon.
Cup and Ball Tip
The Cup and Ball tip is a circled type of spoon shaped lie the typical cup shape. On the back are 3 raised balls in a triangular shape this is the Ball Tip
Cup
This head was my least favourite. It overpowered my clit and I didn't feel like I could orgasm at all. After having it stationary on medium and high I couldn't orgasm so I had to move my hand in a clockwise motion. My clit encircling the edges of the cup and this is how I finally orgasmed using the Cup
Ball
The Ball tip was much like the grapes tip the texture rubbed against me. The two balls where against the outside of my labia minor and the one place on top of my clit which I really liked this tip gently teased me to orgasm.
Grapes and cockscomb Tip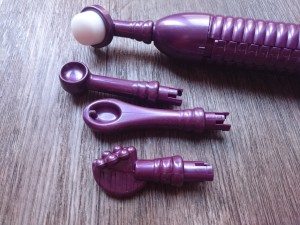 The grapes and Cockscomb Tip features a flattened end that has ridges designed like a comb this is the cocks Comb attachment. On the other side is a very pronounces set of ball shapes the same size as the balls on the ball tip but they are configured in a oval type shape with the balls placed all over.
Grapes
The grapes where amazing when applied to my clit wit pressure. The texture gave my clit something to grid against I proffered to use this as a firm stimulator rubbing the bumps across my clit got me warmed up in no time.
Cockscomb
This one feels much like the way I masturbate I usually rub cross my clit with my first finger vigorously like I am shaking someone's hand real fast. Well anyway it feels like that when pressed down against my clit. I alternate between hardly any contacts so that it flitters against my clit to firm pressure where it feels like how I masturbate this is the way to use the cocks comb for me and I like it indeed. However this head seems to be very loud when not pressed firmly against me it sounds similar to a strimmer. Maybe it was my pubes getting in the way I don't know. I also used it sideward so that it flicked my clit however it didn't work out well that way for me.
Rating for Tips:
Marshmallow
Spoon
Grapes
Cockscomb
Ball
Bumpy Back
Cup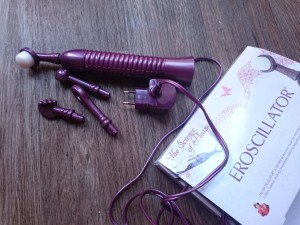 All in all I would choose the Eroscillator over any wand vibe hands down including my Doxy as it is just fucking awesome!! And as far as clit stims go my Siri 2 is going to feel quite neglected now that Eroscillator has come along!
Overall Rating
Appearance

Speed

Oscillation

Orgasm
Summary
Just get one!! The Eroscillator is THE best clit stimulator ever!! It doesn't matter who you are! As long as you are a human being I am sure you will find a way to use the Eroscillator to stimulate you into an oblivion of orgasmic bliss.
RRP: £199.99
You can find The Eroscillator 2 at GoodVibes.com