Dildo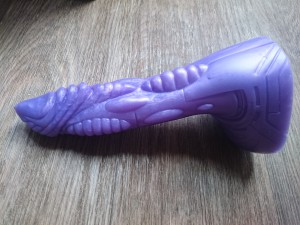 The silicone on this dildo is a lot more giving then the drac and alien it is almost softer. The texture along the top is almost like a scale/ spine detailing this is totally flexible and not firm like I expected meaning although this dildo has immense texture it isn't too harsh and won't cause chafing during use. This dildo is truly beautiful there is a lot of texture and details on the shaft of this dildo. Even looking at the ball sack it has a circuit pattern along. The tip is pointy so I recon if your ass can take texture this would be a great dildo to try anally.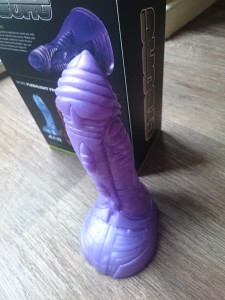 All along the shaft are buttons/ armoured bubbly texture whereas along the top of the shaft is a more pronounced scale texture. This dildo has more texture then most of my dildos and I am a self-confessed texture whore so bare this in mind if you're thinking of getting it.
To start with the texture was quite apparent but as i began thrusting my vag was delighted by all the textured bumps and ridges as they brushed my walls. I started thrusting deep and shallow to bring myself to orgasm. Once I had orgasmed I would thrust slowly my vagina reacted amazingly to this and the slow strokes through my orgasm mean that the texture was really stimulating me as I contracted and this caused the orgasm to be prolonged. I continued this assault on my vag through 4 orgasms I was totally satisfied and I did indeed feel like my arm was going to drop off. I could do with a robot just to thrust the dildo for me let alone the dildo being cyborg membered.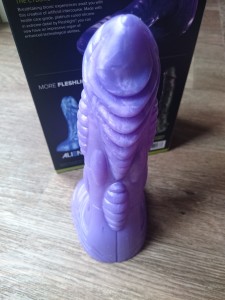 Why is it so hard for me to find a Freak's dildo that I hate. I am disappointed that more shops don't actually stock these dildos because it is an amazing range the only dildos I can find in my usual shops are the fleshjack boys dildos I think that the Freaks need more appreciation! I mean they are not only stunning but they are amazingly detailed and feel just as good as any other fantasy dildo I have tried.
Fleshlight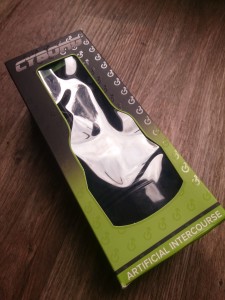 The Fleshlight Freaks sellection does it again, it gives another great design and gives the usual pleasure. On the other hand i do have one fault about this fleshlight and that would be the texture, but i will get to that later now moving back onto the way the product is presented. The Cyborg comes with some great features on the sleeve as it shows a texture which represents the connections made within chips in a PC, this is such a good idea and i love it! It comes with a plain flat texture at the end with a ridge type of texture in between the two, the only problem is that the ridged texture is short on the sleeve. On the actual vaginal part of the sleeve is a wet cyborg dream come true, i just think back to Total Rekall and think this is what it's all about!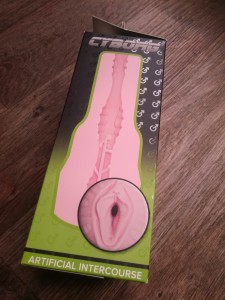 When in use this product gives the same good pleasure you get from any other fleshlight, but I feel like its missing something… It's that deep integrated texture that we all know and love from fleshlight, this has become a disappointment for me as I really couldn't feel the texture as much as the other fleshlight freaks and it started to bother me as I really loved how this product looked inside and out! The texture is a big thing in masturbators and when the texture doesn't pull out it's pleasure it doesn't really give your bellend that smooth hug it deserves. Even though the texture looks amazing on the box, it's still plain even when in use.
Now to the cleaning phase, wash away your tears and lets get this done. When it comes to the fleshlight range you need to take really good care of the sleeve as it can get sticky and look a bit rough on the edges, when it gets to that state there are ways of reviving the sleeve. First off you might wan't to rinse that sleeve off with some warm water before we talk about revival! Once you've taken the sleeve out and rinsed with some warm water (try not to put any soap on the sleeve) and then check the casing for any unwanted mess and make sure you rinse that off too. If you do use some soap on your fleshlight you will run into the problem of stickness and wear in the sleeve, this can be taken care of with some simple Cornstarch, Talcom Powder or Fleshlights Renewal Powder. Make sure you rinse the product, powder it then leave until next use and then rinse before use. Keeping it in warm water will give you more of a relaxing feel.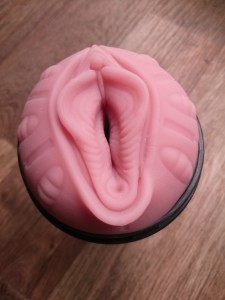 Now comes the question Should i buy it? Well if you like a collection completed then yes! I'm one of these people who like to have a complete collection of thing's and i like to keep them organised, when it comes to fleshlights freak section there is no way i will let one go to waste! I would like to review all of them, it's becoming a hobby trying to make collections of stuff. Maybe it's that good'ol Ash Ketchum slogan "Gotta Catch'em All" where you can't just have one or two, you have to have all five fleshlight freaks. Some people might say collections aren't really their thing, so i would say to them "Move to another fleshlight" as this doesn't give you that 100% fleshlight feel like the others do, but its a great freak to the collection!
Overall Rating
(Dildo) - Texture

(Dildo) - Firmness

(Dildo) - Appearance

(Dildo) - Orgasm

(Pussy) - Appearance

(Pussy) - Texture

(Pussy) - Pleasure
RRP: £50 (Each)