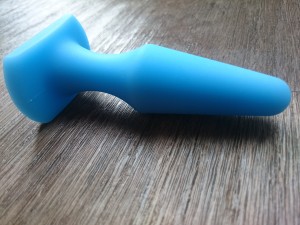 I received the Loving Joy Demi Plug in return for my honest review from Adultshopit.co.uk They are a small UK based company I think you should all check them out i do like to support local shops. The fact i got this product free of charge is not going to afect the outcome of my review.
The Loving joy Demi Plug is made from silicone and can be boiled, bleached and steamed to totally sterilize it. I use an old microwave bottle sterilizer for my sex toys which I keep stored with them. They are cheap enough to buy and if it's good enough to clean baby bottles it sure is good enough for sex toys.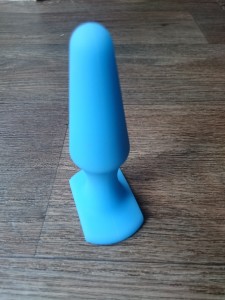 If you use a microwave steriliser for your toys this can mean you can use them between partners as all the bacteria is blitzed away. So yeah full marks for this plug being silicone it is a nice pale blue colour and has a smooth finish.
You can also heat this plug up buy standing it ion warm water for 5 minuet or cool it down by standing it in cool water for 5 minutes before use. Which is great for temperature play silicone hold heat pretty well but keep in mind if you cool it down it may warm very quickly as silicone tends to heat up pretty quickly.
The plug was easy to insert but I would prefer to have a thinner tapered tip then it does as it starts off quite thick. The wide base makes sure it stays in place which I can feel I actually enjoyed the fact I would feel it in place as this reassured me it wasn't getting sucked into my anal cavity.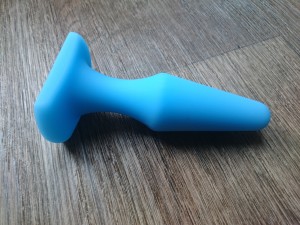 The Demi Plug was very comfortable to wear and even though we had a bit of foreplay and I had few orgasms it stood where it was put and didn't budge when my vagina started contracting.
The silicone is firm and not bendy which is exactly what you want from a decent butt plug the base is thick and firm and doesn't have much give I personally like this and it gives me reassurance when I am using it.
Overall Rating
Appearance

Girth

Length

Base
Summary
I wouldn't really recommend this one for beginners as I reckon the girth is a little too much but I really do like the length of it. For those who are experienced or have a little experience in using plugs this is a nice sized medium plug to get as an essential toy for your toy box.
RRP: £12.99
You can find The LovingJoy Demi Plug at Adultshopit.co.uk