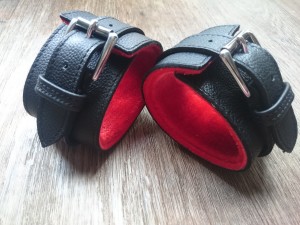 I received The UberKinky Grain Leather Fur Lined Wrist Restraints form Uberkinky in return for my honest review the fact I received them free of charge will not affect this review in any way shape or form. Thank you Uberkinky for being such an amazing company to be working with they are so good to us bloggers!
So Mr attached the cuffs to me using a double clip chain to link them he tightened them on the second from last hole and they were incredibly snug fitting! They wrapped around my wrists and where so soft.  We used them during a sensual play session I also wore a blindfold which I was quite happy about. These cuffs came in hand keeping my roaming hands still.
These cuffs give off a hard-core bondage look but they are super soft and really i would say are quite the beginner's cuff. I mean the fur just completes it for me it is so comfortable so much so that when we had finished without session that Mr unclipped one clip and I just left them on whilst I use my Eroscillator. I didn't want to take them off!
I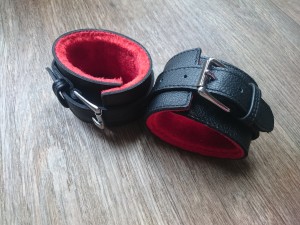 have contemplated wearing them all day but that isn't going to happen either I will get looked at funny out and about or my kids will think they are some funky looking bracelets. Seriously! We have tried so many types of cuffs you name tit we've tried it and I can tell you these are the most sturdy and comfortable cuffs we have. Even though they are priced a little lower them most of our other this is the Best pair of cuffs we own by a long shot!
The only downside is that they don't come with their own chain but we didn't find this an issue as we have plenty of spare parts to toys/equipment lying around. However if I was purchasing them you would need to purchase a chain also which let's face it doesn't cost that much. Uber Kinky have a bid selection of Ankle and Wrist Restraints but i have to say i really like the look of these cuffs.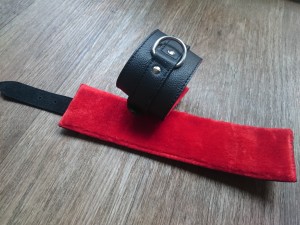 You can tell these cuffs are very well made the seams around the fur are sealed firmly with stitching that is very patterned and in filed not a stich out of place at all! The fur is soft and a lovely red colour the leather itself is amazing and I'll let you in on a secret I wouldn't call it a fetish but I love the smell of leather it smells amazing and I seriously cannot stop sniffing these cuffs.
Overall Rating
Appearance

Comfort

Quality
Summary
Go Get some of the Fur Lined Leather Cuffs they are amazing quality and far better than our other cuffs even the fur lined ones we already have they have been tossed aside for these ones! Go and Get Some! The Best pair of cuffs I have come across!
RRP: £25.99
You can find The Fur Lined Leather Cuffs at Uberkinky.co.uk