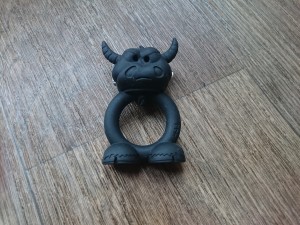 I was sent the bull cockring in return for my honest review by LUMUNU. The fact I was given this cock ring free of charge is not going to affect the outcome of my review at all.
This little bull is just cute! Don't you think? It is just so detailed with the horns and feet. The eyes light up yes that right when you turn the bullet on a red light comes on and this shows through its eyes like it has little angry eyes. Okay I may be being a little excited about this cock ring but it's adorable!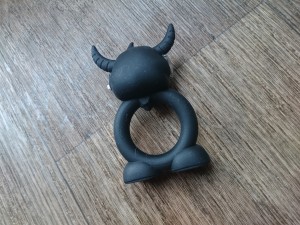 So this cock ring has one speed and features a little bull face and horns and even a little beard which rests against the cock. It only comes in one colour which is black and has a bullet vibe inserted through its head which can be removed for cleaning or even if you don't want the vibrations.
So Mr needed a lot of lube to get this little monster on! It was such a tight squeeze and I don't think it was comfortable for him at all. When turned on the vibration is a strong buzzy vibe which when Mr thrust it pushed against my clit. This really did get me aroused and I enjoyed using the cock ring. However I feel Mr wasn't as comfortable as I was. He finished and then used the cock ring to stimulate my clit this worked extremely well and I grew more horny so I carried on using the cock ring to stimulate me and I had a lovely blended orgasm spurting as I came. I didn't stop the vibes spurring me on again I orgasmed. I have to say this little fella made me see red until I orgasmed.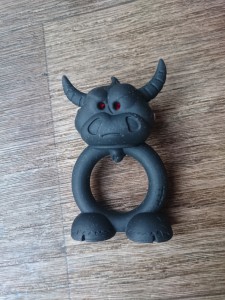 Although mr's girth was too big for the cock ring I enjoyed it but to be fair mr's girth isn't large and if he couldn't fit this ring on I doubt many people would manage. I don't think cock rings should be painful to wear and the fact it was really tight worried me I have to admit.
I do wish however LUMUNU would consider using this cock ring to create a bullet vibe because I would be well impressed with bullet shaped like a Bull maybe they would consider my advice and make a Bull Bullet?
Overall Rating
Appearance

Comfort

Vibrations

Orgasm
Summary
As a cock ring its really small so would only suit those who have very little girth. The vibrations are great and I think it would do better as a bullet.
RRP: £19.99
You can find The Crazy Bull Cockring at Amazon.co.uk