I entered the raffle at the Smut stand at Sexhibition one of the prizes I won was the Rocks off Pleasure In Motion Love balls.
The rocks off love balls are made from two very heavy stainless steel kegel balls attached onto a silicone strap which then has a metal loop for easy removal. The design is very similar to the Inner Goddess balls. Apart from the fact that the inner goddess balls had string instead of silicone holding it together.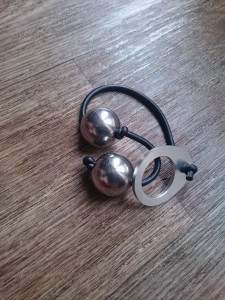 The weighted balls where easy to keep inserted their weight pushed against my g spot as I was kegeling I found that this little pleasure spiked me to leave them in longer. I was relaxed doing my kegels with the Love balls. I even left them in whilst I was prepping dinner and feeding the baby. I totally forgot they were their apart from the heavy weight from them pushing against my vaginal walls I wouldn't have known i was wearing them. Now they didn't clitter and clatter against each other like the inner goddess balls which I think is a bonus i think this is due to the spacing of the balls as the Love balls where spaced further apart along the chord then the goddess balls where. if they are too close together they happen to bang against each other when this happens they make a noise and its obvious you're wearing them. The Love balls are smaller than the Inner Goddess balls so this meant that they were easier to insert and take out.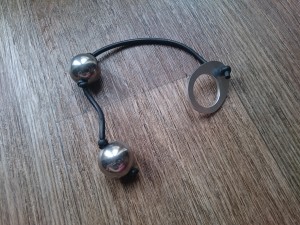 Now I was a little naughty and used Sliquid Silver with these balls as I thought it would be nice with the metal. I totally forgot about the chord being silicone and I had them in a good hour at least. Up on removing the balls I was worried and checked for signs of fused silicone etc But There was nothing no reaction. The Sliquid Silver made it more comfortable for me to use the Love Balls and it lasted the whole session so I wasn't irritated when using them neither did it feel like they were chafing me.
Overall Rating
Appearance

Ease Of Use

Material

Comfort
Summary
The Rocks Off love Balls are everything The Inner Goddess balls claimed to be but the inner goddess balls sucked I'm glad to have found a better alternative as I really like the weighted feel when doing my kegel exercises.
RRP: £24.99
You can find Rock off Love balls at Rocks-off.com