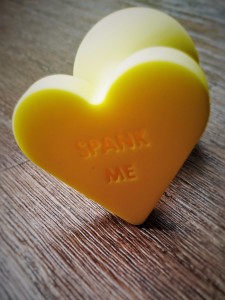 I was sent the Naughty Candy Hearts Plug free in return for my honest review by Blush Novelties. The fact I got given this item will not affect the outcome of this review at all.
Don't you just think this plug is cute? I mean it somewhat resembles the love heart sweets I used to eat as a child with the "kiss me" sayings on them you know the circle ones anyway it is just adorable. But this heart has its naughty side it is a butt plug that says "Spank Me" now the fact I got sent the spank me one was very apt indeed.
There are 3 sayings: "spank me", "Do Me Now" and "be mine" the "Be Mine" again reminds me of the hearts as this was actually one of the sayings you could get. They are in lovely pastel colours Yellow, Purple and Pink. The Naughty Candy Hearts plug is made from 100% body safe silicone, which is super soft to touch and doesn't have a seam of what I can find anyway.  It just is a 'lovely little plug in fact I wish it would've been my first plug instead of the horrid "beginner's plug" I got from AS which was HUGE! In fact I am somewhat jealous I didn't have this as my first plug.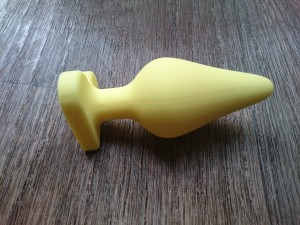 The Naughty candy Hearts plug is perfect for beginners it's size isn't too big or small and the heart base makes it a less scary looking butt plug. I mean what more could you want if not to have a heart between your arse?
What drew me to this plug was the heart base now I'm all up for lovely looking bases but is it practical? I mean I'm sure it looks amazing between my cheeks but did it do its job?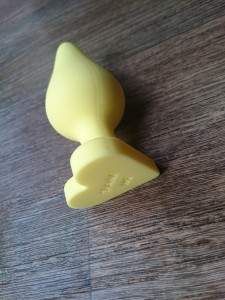 I inserted the Plug pretty easily the tapered tip meant it was super easy to insert. I then waved my ass in the air. I was on the bed with my head down ass up wiggling and grinding my ass Mr was eyeing me secretly from his computer. I needed his attention after holding a vibe to my clit he then too notice. And came and spanked me. He rubbed my pussy with his skilled fingers my wetness was apparent as he touched me. He inserted two fingers fucking me whilst the butt plug was in he admired it for a while looking at the heart between my cheeks. As he thrust his fingers into me he used the palm of his hand to nudge the plug this double pleasure was amazing. After him using the vibe on me he fucked me when  I asked and the plug was firmly pushing against my vaginal walls. As my vagina clenched in orgasm my ass held firmly to the plug. The plug also gave me double stimulation both through my vaginal walls and my ass I had a few blended orgasms before he came. I was determined to get more excited by the thought of the butt plug looking all pretty in my firm ass. Spread legged on my back I used the vibe to orgasm whilst Mr used the pussy flogger to tip me over the edge the butt plug bopping around as my vagina clenched gave me an amazing stimulation experience.
Overall Rating
Appearance

Length

Width

Comfort

Orgasm
Summary
OMG I love the Naughty Candy Hearts plug! It is just so cute and so naughty and just perfect! It is great for beginners but I would also recommend those who want a nice sized plug that looks great when in use!
RRP: £11.79
You can find The Naughty Candy Hearts plug at Blushnovelties.com