So as you all know i won tickets to Sexhibition through the blog spot hosted by Cara Sutra and Voluptasse at the ETO show this year. I wasn't going to attend Sexhibition due to funds being low but i am thankful i won those tickets as i have had such an amazing time.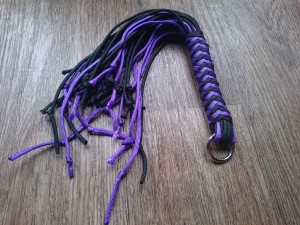 I knew Kink Craft where teaching people to make their own free flogger yes you heard me right FREE how generous! I was super excited and i love to get handy and make things so i seeked out the kink Craft stand as soon as i could. After various attempts of strolling past trying not to look like i was stalking the stand i waited in the cue yes that's right people where queueing to make these floggers! It was the busiest stand there! I gave up and went to watch the fashion show on the stage. after an hour i went back edging my way towards the stand. It was a little quieter and as i stood patiently waiting for my turn i watched the other sexhibitionists make theirs. The Kink Craft team had their hands tied (not literally) but they where super busy and where teaching people to make floggers again and again they where doing fab.
As it was my turn i sat down and chose the purple rope which i was passed along side some black i folded it in half like i was told but i exclaimed that mine was longer then everyone else's, i knew i had done something wrong! I just needed to fold it again so i did. when it came to placing the ring on the rope instead of placing half the strands through i went to put the whole thing through. Believe it or not i hadn't even took a sip of alcohol, yet the couple opposite me had just finished a point and where doing much better then me. despite my clumsiness i was assisted through putting the ring on.  after this i had to tape up a handle of 5 inches so i got mr to hold the ring tight so i could make a firm handle this went much better then my rope and ring dilemma. and within minuets i had wound the tape round to five inches then back to the top leaving an inch gap between the ring and tape.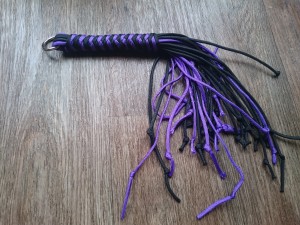 Now once this was done we got another two ropes i had to laugh as i was given blue when i was doing purple everyone on the table had a giggle and the Kink Craft rep who was assisting us said we would've had a very cool looking blue handle with some blue strands in the flogger lol. So after i was given the purple and black ropes we had to fold them again and thread half of the strands through the gap between the rope that was between the ring and tape. At this point i noticed a flaw in my tightly firm handle taping my gap was too small to thread the rope through.  It's a good job they had some pokey sticks to poke the rope through! so i poked and pulled the rope through the loop and that was that. We had to separate the rope into 4 strands either side of the handle. Alternating black then purple. We took the first strange and looped it round the back of the handle and back between the middle of the four on the other side.  I continued to weave the handle alternating colours until to my surprise with my clumsy start i had finished my handle first.
The Kink Craft rep took my flogger and showed us all how to tie them so the left over rope would fall in line with the other strands on the flogger. Now my flogger was a bit miss matched and my strands where longer then others but i was so proud of my make that it was all part of it's charm. I was showed how to trim the white inner bits of string so it would look pretty and was told it didn't matter that my strands where all uneven because i could tie knots in the end at different levels to create more of a sharp impact my eyes lit up and i tied my ends my flogger looked a lot better. Thanking the rep i was handed a bag to place my flogger in and a leaflet detailing the next evens Kink Craft are going to hold.
I have to say i had a lot of fun making my flogger and thanks to kink craft i have something i am very proud of making and it shall be well used!