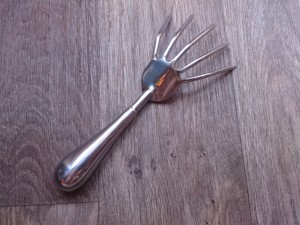 This is my first review for Uber kinky. I received this month's review list from them in an email. And among the review items was the Dragon claws. They had previously been added to the site the night before when I saw them I added them to my wish list. So the fact they were available to review was a little ironic.
I emailed back straight away super excited and asked to review them. I have previously said I am open to trying new things in my relationship. We aren't BDSM enthusiasts but I do like to engage in different types of sexual pleasure to spice up our sex life. And there is not anything I wouldn't say no to. So we've tried paddles floggers whips ect but never anything like the Dragon Claws.
The Dragon Claws are made from Stainless Steel. The claws resemble somewhat of a rake sort of shape. There are five fingers on this claw which are angled and sharp tipped designed to leave a pleasurable pain in their trail when used during sensual play. The Dragon Claws are weighted at the from this means the claws weight is on the prongs this adds pressure to the claws when they make contact with the skin without the person using them having to press down.
The handle is a perfect shape it gets wider at the base this enables you to have a firm grip on the Claws. The Dragon Claws feel heavy and weighted when held this adds to the pressure when it is used also so take this in mind when using the Claws.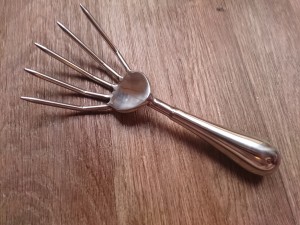 I lay on the end of the bed faced down I was wearing my red lace chemise when Mr started to stoke me. My thighs my ass everywhere that turns me on. He then took the Dragon's claw and stroked it across my back very lightly it tickled. Down it went from my left shoulder to my right cheek then right shoulder to left ass cheek gentle tickles. He slid the claws down my inner thigh one then the other. This felt amazingly arousing for me. He then made hard strokes and I felt the claws dig into my flesh in a flavoursome way I couldn't get enough! Stroke after stroke the claws traced my  butt cheek again he twisted them so that the claw cupped my cheek then dig a little this was my favourite spot to me touched by the claws that spot that made me wet. Mr knelt to his knees lapping my ass and vulva he pushed my legs far apart as his mouth was at the apex of my thighs he stroked the claw down across my back again… again.. Again I was delighted as he fingered me making me want to come. I told him to press harder with the claws. I was close I erupted and he lapped at my juices as I turned over. Mr rubbed his warm cock against my vulva before entering me as I circled my clit eager to come again he thrust into me. I grabbed the claws and asked him to stroke them across my inner thighs. The feel of the claws a pleasure in itself. Mr had his release I was on the brink when I pushed his penis out. I told him to shove his cock back into me and continue the stroking with the claws. I circled my clit and the claws drew lines across my thighs and I was in pure bliss a moment where my ears go buzzy and my brain fuzzles and I just revel in the pleasure and pain combination.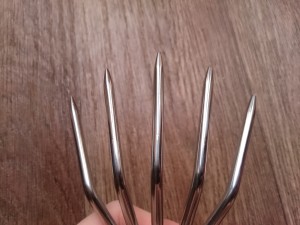 I really like the Dragon Claws I haven't every tried anything that is used to prick or scratch flesh so as my first experience with this type of toy it has been a positive one. They can be used lightly for a tickling sensation and firmer for a pain sensation. They can be used during BDSM sensation play to enhance and heighten the senses during use. I think that they are perfect to use during erotic massage and coupled with a feather tickler or vibe you can create some wonderful sensations for your lover to enjoy.
Overall Rating
Appearance

Grip

Sharpness

Pleasure
Summary
I recommend the Dragon Claws to people who are able to tolerate pain as well as pleasure, those who want something to spice up sensual play. As a newbie to this sort of feeling I enjoyed it very much but I'm not sure it is for all people so if you haven't used anything like it before just be wary and take your time using this product.
RRP: £26.99
You can find The Dragon Claws at 

uberkinky.co.uk