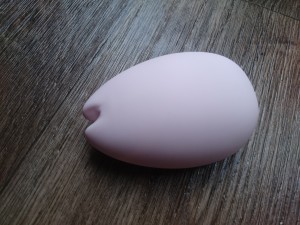 I was given the Sakura in return for my honest review. This was given to me by  Tenga. I have to thanks for helping me bring you some reviews lately.
The Sakura is part of the Tenga Iroha range they have a series of Clitoral/external massagers. These are Yuki, Sakura and Midori. These are all made out of soft silicone that is plump and plushy. Now I have already reviewed the Yuki which I adore and I have also review the Minamo vibe these vibes are so soft and squishy they have to be felt to be believed.
The Sakura comes in one colour this is a mild pastel pink but I think it almost looks like a dirty pink colour it's not even baby pink. I normally would praise iroha on colour choices as the range offers pastel colours most companies choose not to use, I think baby it would look better in a pastel purple. But that just me being picky. The design of the Sakura features an indentation in the tip this acts as rabbit type ears. You place your clit between the prongs and it offers double side clit stimulation. For me this is one of the easiest was to orgasm I often opt for vibes with ears.
T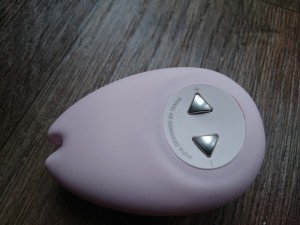 he Sakura has 4 speeds, Low, Medium, High and one pulsation mode. This is enough for me as I only use the basic speed settings anyway and I think that on pulsation mode is more than enough for a vibe. The reason being Pulse modes irritate me I don't have the patience for them they bring me to climax then let me down and I just don't need to be teased by a vibe really.
The iroha charging cases are really amazing it makes the vibe classier to charge in a box instead of having leads wired to the vibe they go into the box then the magnetic buttons on the vibe attach to the magnets in the box to charge it up. Sakura is also splash proof meaning it can be washed and rinsed but it is not able to be submerged underwater, this doesn't bother me really I rarely take my toys for a dip anyways.
So I decided to wack out the Sakura and see what it is made of, it had tough competition with the Yuki and Siri 2 being my favoured vibes. The shape of the Sakura for me feels natural in your palm this is all good until it comes to aligning the ears with my clit I ran it over my hood trying to get my clit to stay between the ears. This failed and if I moved slightly my clit would pop out. The only way I was able to get my clit between the ears was if I tipped the vibe up so it was sort of pinching my clit with the rest of the vibe up in the air I didn't feel much vibration. I like movement and this vibe moved every time I got close. I was on the brink of orgasm and then my clit would dislodge from the snug gap. I did eventually orgasm with the Sakura it was good but nothing the Yuki couldn't handle.
So the ears are the main part on this vibe it sets it apart from the Midori and Yuki yet this was its flaw if I was buying this vibe for the ears I would've been disappointed. It leaves the Sakura in echo of the Yuki but if I wanted a flat surface I would just get the Yuki.
The slit between the ears for me isn't deep enough to encase my clit if the slit was longer and the ears more pronounce it would be amazing. I think Iroha designed this vibe to be as elegant and smooth as possible but the clit slit is just too small for my liking.
Overall Review
Appearance

Clitoral Stimulator

Orgasm
Summary
As much as it pains me to say this, I really think if you are going to buy this you should get the Yuki instead. The ears are impossible to orgasm from alone leaving this vibe with the remains of a Yuki so I wouldn't really recommend this to anyone unless you have a tiny clit. In short just get a Yuki!
RRP: £69.00