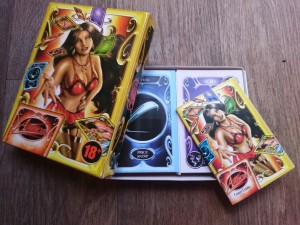 Ardor the game was given to me directly from Ardor they contacted me and asked if I would review the game for them. Which of course I agreed to Mr was super excited. We previously saw the game on another blog and he said "I bet that's fun" so obviously we were really pleased to be contacted to review the Ardor game
Having reviewed previous games I was curious as to how this game would size up to the one was already have. Ardor is unlike any other sex game we have.
Mr and I are 90's babies we grew up with card games such as Pokemon, Yu-Gi-Oh, the list goes on well when we were in our child years these games relied on getting EXP and powers to attack the other players card. So you can imagine the excitement when I told Mr that Ardor contacted me to review the game for them, he joked about getting his Yu-Gi-Oh deck holder from the loft to use with the game.
Okay so after reading through the instructions we were left a little confused but worked out a way we could simplify them. Basically you play the game in two parts win your fantasy is the first part in this you ignore the positions and tasks on the cards. You each have 5 cards. The rest are piled in a deck, you choose to top up your deck using cards from this pile. You take in turns to place a card down if you cannot match that card on your turn with the same EXP or Suit or card type your draw one from the deck if this still doesn't match you choose one to put down and lose that trick. To win a trick you have to put down each card to match the previous, the Ardor card can be put in place of any card the next one placed is the one you have to match. I hope I haven't confused you yet. So if your opponent puts down a card that doesn't match the previous you win and keep all the cards from the trick. Be sure to separate any cards with EXP that you win as you can count how many EXP you have. The person to get 16 EXP wins the game. If you both manage to get 15 EXP each then the person who has the most hearts wins.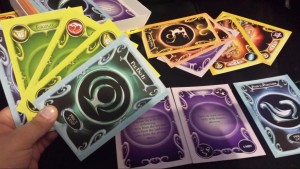 Live Your Fantasy is a little different the loser takes the turn to buy Special powers using the EXP won in the first game: I'll do it, pass to partner, refuse. The amount you can buy these for is stated on the power card. The loser of the first game buys their power cards first. Then the winner of the previous round buys their power cards. Then the winner takes 5 of each type card from all the cards they won in the last round 5 truth or dare, 5 foreplay and 5 sex cards. They also choose the enhancements to use with these cards. At least one Lick One Accessory and one Toy. They also choose at least one Ardor card. The winner shuffles the 3 individual decks ( Truth or dare, foreplay and sex). You then work your way through the decks one at a time in this pattern, Truth or dare then once the deck has gone foreplay then once the deck has gone sex. The winner will get to choose which Ardor cards will level up the activities and they will place them face up next to each deck. Each player picks one card and reads it aloud to the other player. The person who lost the last round gets to act thier card out first. After that the  person who drew the card can choose whether to use a special power or not. When the winner draws a card they announce whether a special power will be used and what enhancements will be used if the card chosen has an enhancement slot. And they can also choose which level up/Ardor will be used. If the player who chose the card doesn't place any special power down the other player can draw the "I'll Do It) card and perform the activity on the card the other player chose with all level ups and enhancements applied. This game finishes once all the tasks on the cards are completed.
Mr and I sat down and played the first round we got very competitive but Mr was gaining EXP quicker then I and I wanted to win! I didn't as Mr won 4 more EXP sending his value from 15 to 19 and he won the game. I only had 5 EXP by the time we finished. Mr set out his chosen cards and we engaged in the truth or dares. I liked these as they had me giggling. Mr had to turn me on by kissing me I was giggling more than anything and I drew mine and I had to dance to a song of his choosing for 1 minuet so iTunes was on shuffle because he couldn't decide then a sort of rave tune come on so we were dancing like bloody idiots. Then Mr had to kiss a part of my body of my choosing I chose my pooly toe, I had previously broken my toe and thought it would be nice for him to kiss me better. We had a couple more truth or dare cards that where acted out then we moved to the Foreplay. I had picked, Rub your partners penis with your pussy for one minute, this was right up my ally and I ground Mr teasing him. The next one I drew was to touch myself with Mr watching, I enjoyed this as Mr watched I ran my fingers over my clit and caressed my vulva inserting one then two fingers into me then pulling out and stroking my vulva again teasing him even more. The next card we got was to watch a porn movie for 5 minutes. We took this one less serious and giggle at the poor acting of a Spanish woman and two drunk blokes taking and making moves on each other.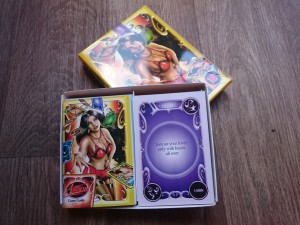 Now for the sex Mr inserted himself into me I was stood facing way from him in the prison guard position he thrust into me I was glad of the penetration getting worked up with this game I needed to be fucked! Once I was about to explode with my orgasm he switched to the sex card he drew the "deep impact" card his cock was deep inside me my legs on his shoulders and he thrust I felt him all of him inside me. On the edge again we switched to the "Riding Astride" card now I am not the stick thin girl I used to be when we first met 5 years ago so I found getting into the position without putting pressure on Mr very hard but once I was where I needed to be I rocked and bounced and looked at Mr he was enjoying it "im gunna come" is all I had to heard from him to tip me over orgasming and then he followed writing against me tensing up to have his release.
I really enjoyed our experience with the Ardor game it certainly got us both going and I like the fact you get to act out the cards in your sexual practise At the end I would much rather this then like most game you have to act out the cards as you're playing the game. We both enjoyed the competitiveness of the first round we needed to gain that EXP!
I do feel that the Ardor game is a great game for couples and I think that you could possible play it in a 3 and adapt it to suit if you have a 3 way relationship. I found that we were able to open up and enjoy the Ardor game with also being very intimate this game certainly is going to spice up our Sunday sex!
Overall rating
Appearance

Instructions

Tasks

Fun

Bonding
Summary
The Ardor game is something totally different to the games we have tried and the excitement slowly builds up in the game to the end where you act out your fantasy each game is different and you can also add toys and accessories to the tasks so every game you play will never be the same.
RRP: £32.06