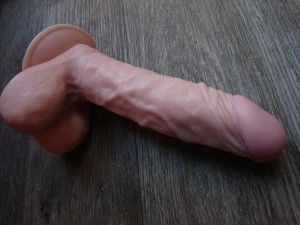 I received the Realistic Cock as a birthday gift from Segzi.co.uk this was very generous of them. They are quite a friendly bunch over at Segzi.
So I received my original cock which is modelled after an actual penis. I do not know who's but someone somewhere has the penis that is an exact replica of this dildo. The Realistic Cock features a really strong suction cup. And a set of rather large balls.
The Realistic cock is 7 inches in length (other lengths available) the design I have is the sil-r-gel dildo it is phthalate free and is moulded directly from a real life cock. Although it doesn't say who's I would've liked a link or detail on the box but that's just personal preference.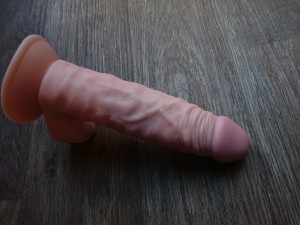 Okay so on the box it says "Do not attempt to warm this products in a microwave or conventional oven." Okay I am not sure why you would want to warm up a dildo in a microwave before use but there is a warning anyway just in case.
The shaft has a lot of veins these are really pronounced and you can feel them during use. Obviously as you know I love my texture so the fact this has those veins adds to the stimulation when you use it. The tip of the cock features a nicely rounded bellend which I quite like the look of. Although the colour of this is a little too much of a dark pink too look realistic it still looks relatively nice and attractive.
This is a PVC dildo now it is totally up to the individual what they put inside their bodies personally whenever I use anything other than glass wood or silicone I always use a condom now this way I still get to use dildos and vibes I wouldn't just put inside me. This is just personal preference. I have done some research and Doc Johnson do sell a platinum silicone version of this dildo for those who prefer silicone.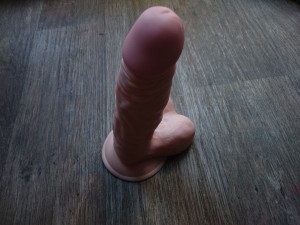 Mr used the Realistic Cock to [penetrate me I was blind folded and had no idea what he had in store. I felt the thick tip entre me and the girth stretch me crying out with pleasure as he thrust again,again,again I was overcome with the enjoyment I felt. Mr thrust hard and fast me coming. I writhed and writhed as the Cock thrust into me. The Realistic Cock stretching every party of me with its huge girth, I felt full and my enjoyment was for filled. Mr took away the dildo and filled me with himself, he felt so warm and ready. We continued our session until we had both come and where exhausted.
Overall Rating
Appearance

Length

Texture

Gith

Orgasm
Summary
Okay so that concludes my review of the Original Realistic cock. My recommendations for this one are for those who want a realistic looking cock with a suction cup. I don't recommend this for beginners as it is quite a hefty hunk of cock. I do recommend that those who like length and girth check this out as it has a bit of both. Overall it Is a pretty decent dildo.
RRP: £35.99
You can find the Original Realistic Cock at 

Segzi.co.uk